Tuesday morning December 4, in Bacalar
— our hotel and the town of Bacalar
↓ Two pictures of our hotel in the morning light ↓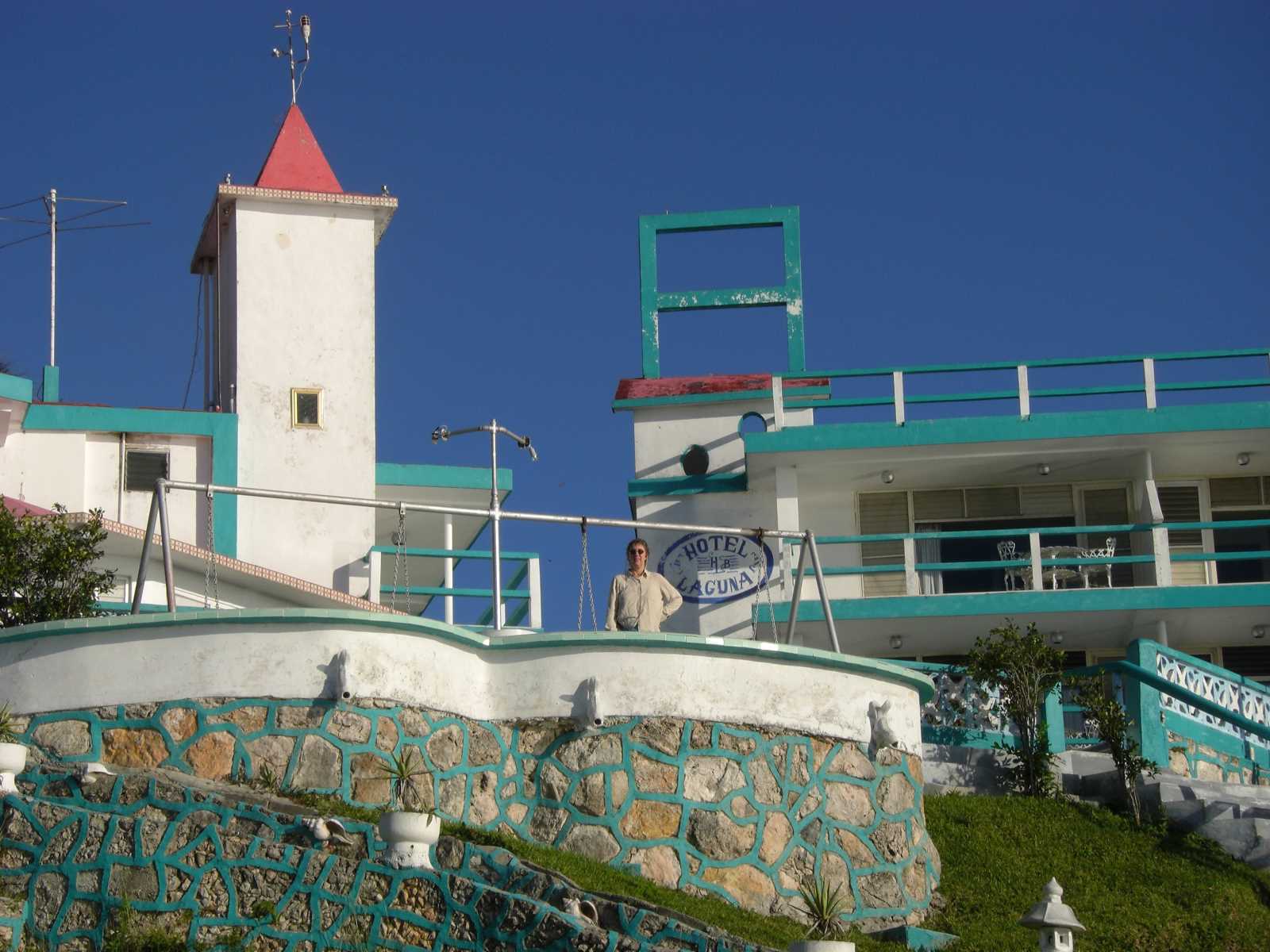 ↓ That's our room up there on the left. All rooms face the water. ↓

↓ Bacalar Lagoon, a large freshwater lake, is known for its clarity. ↓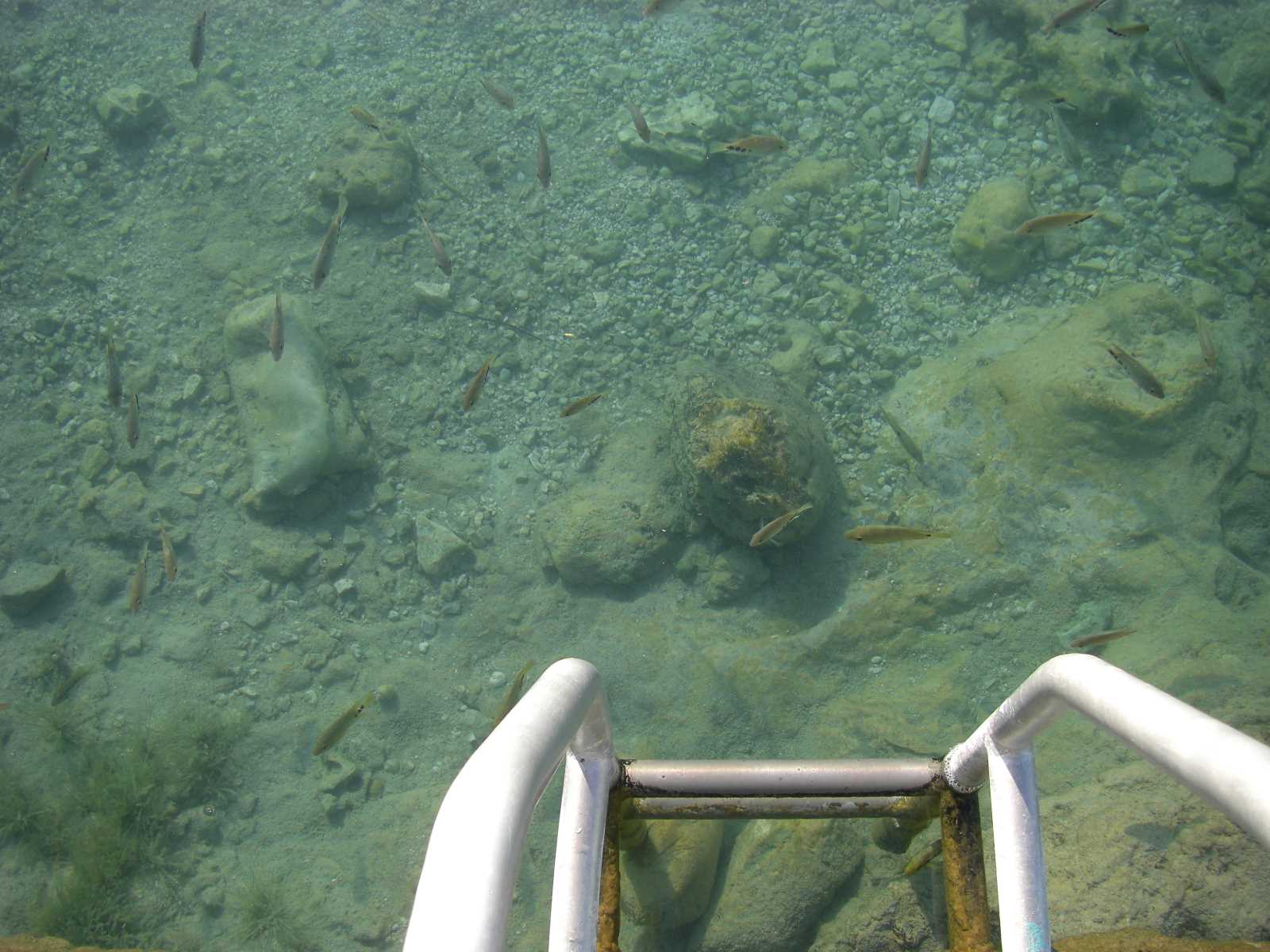 ↓ There is a drop off very close to shore here, and a diving board hangs over it. ↓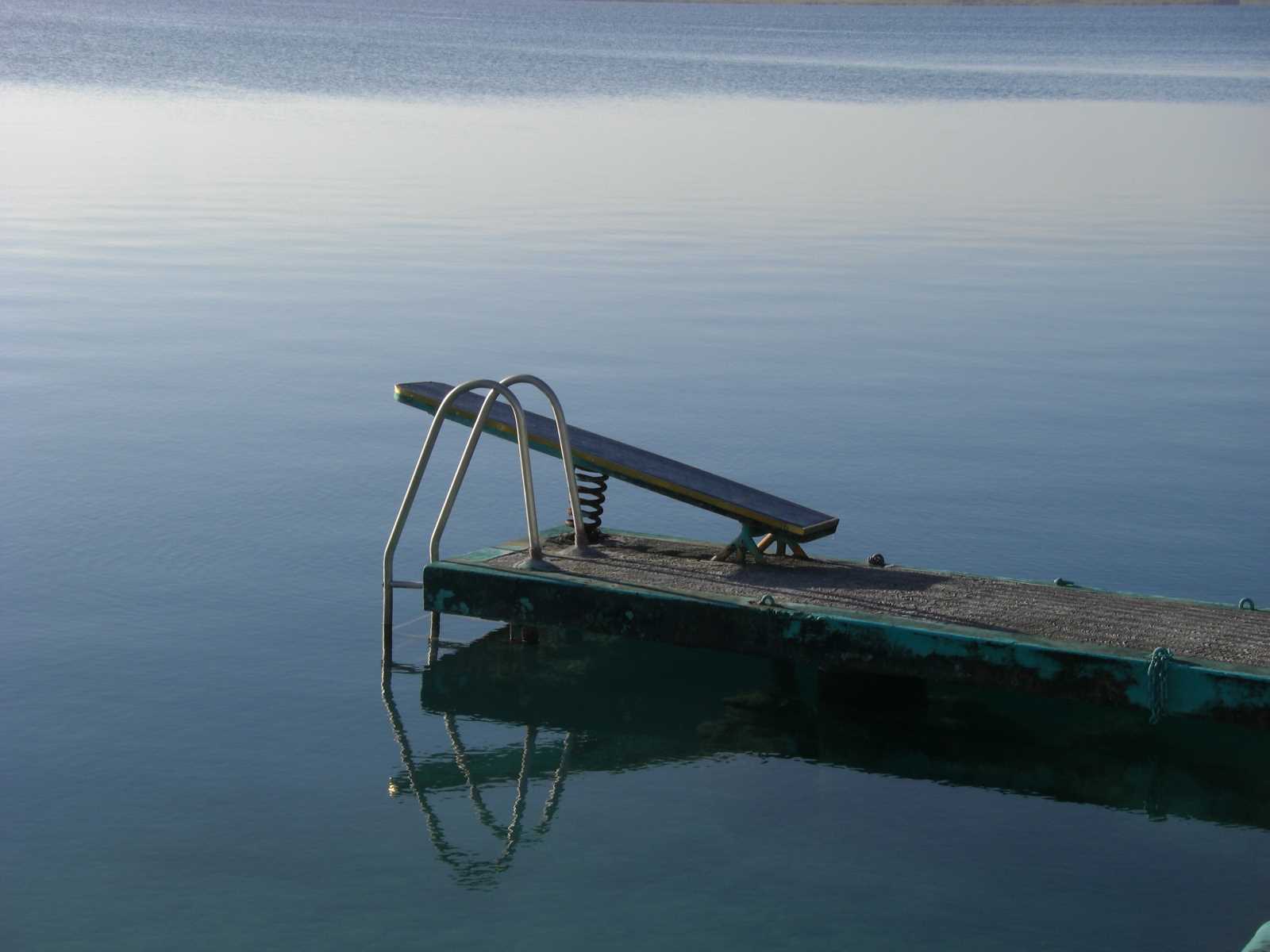 ↓ View out our window.
The picture window is glass; those are screens beyond the wooden louvered shutters. ↓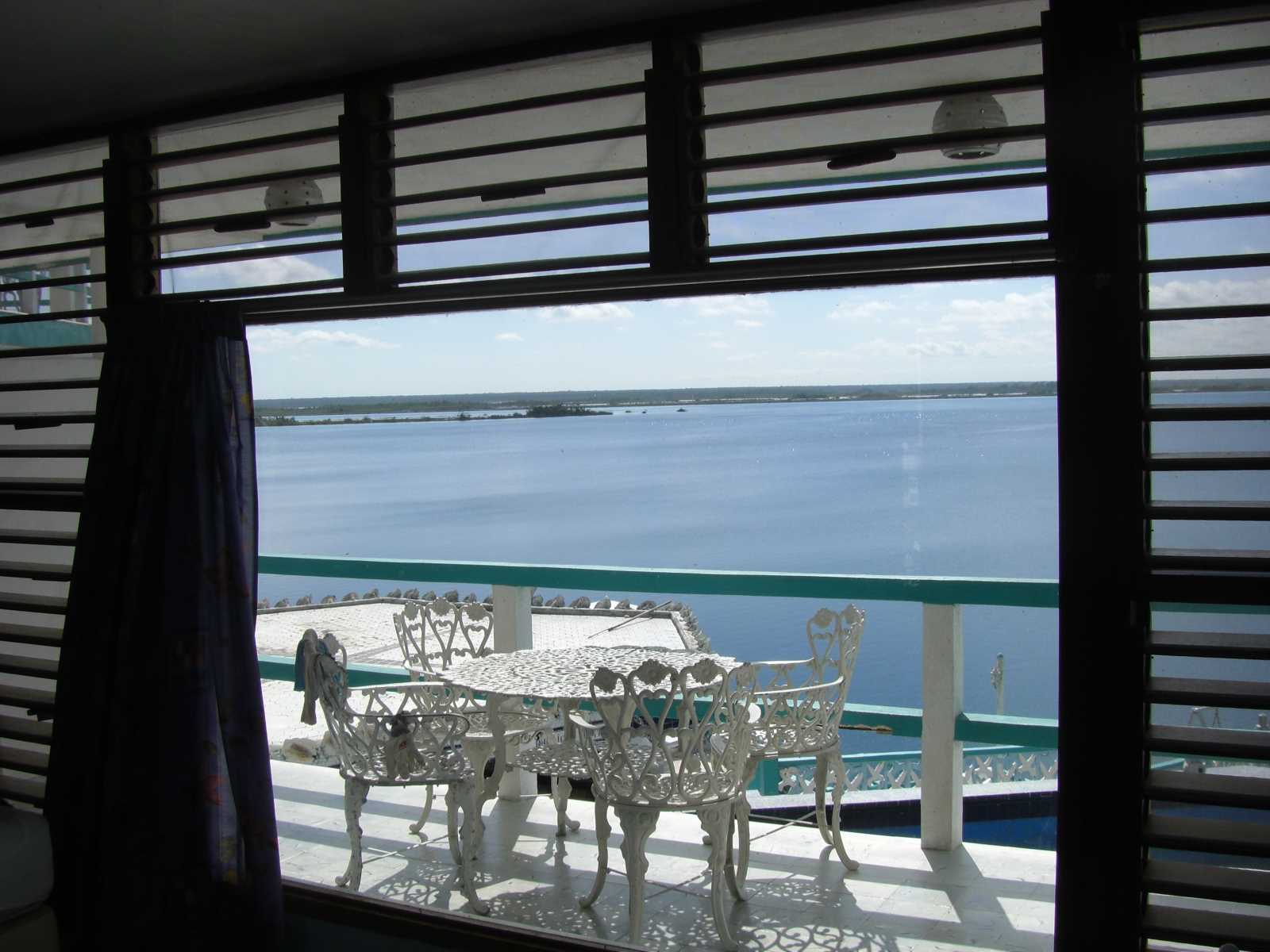 ↓ Sea shell counter top ↓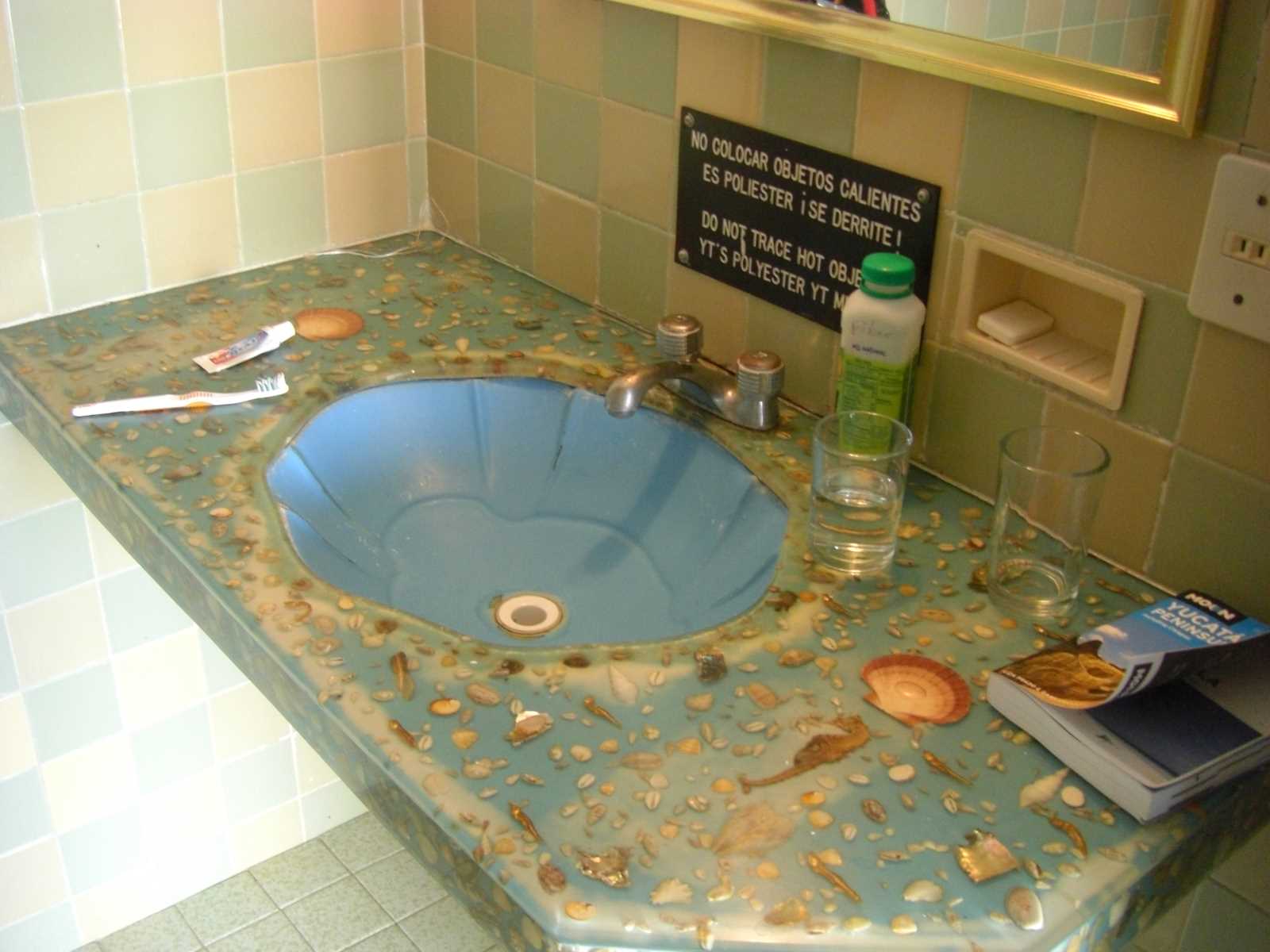 ↓ Sign at the countertop. Go ahead and sound out that last line.... ↓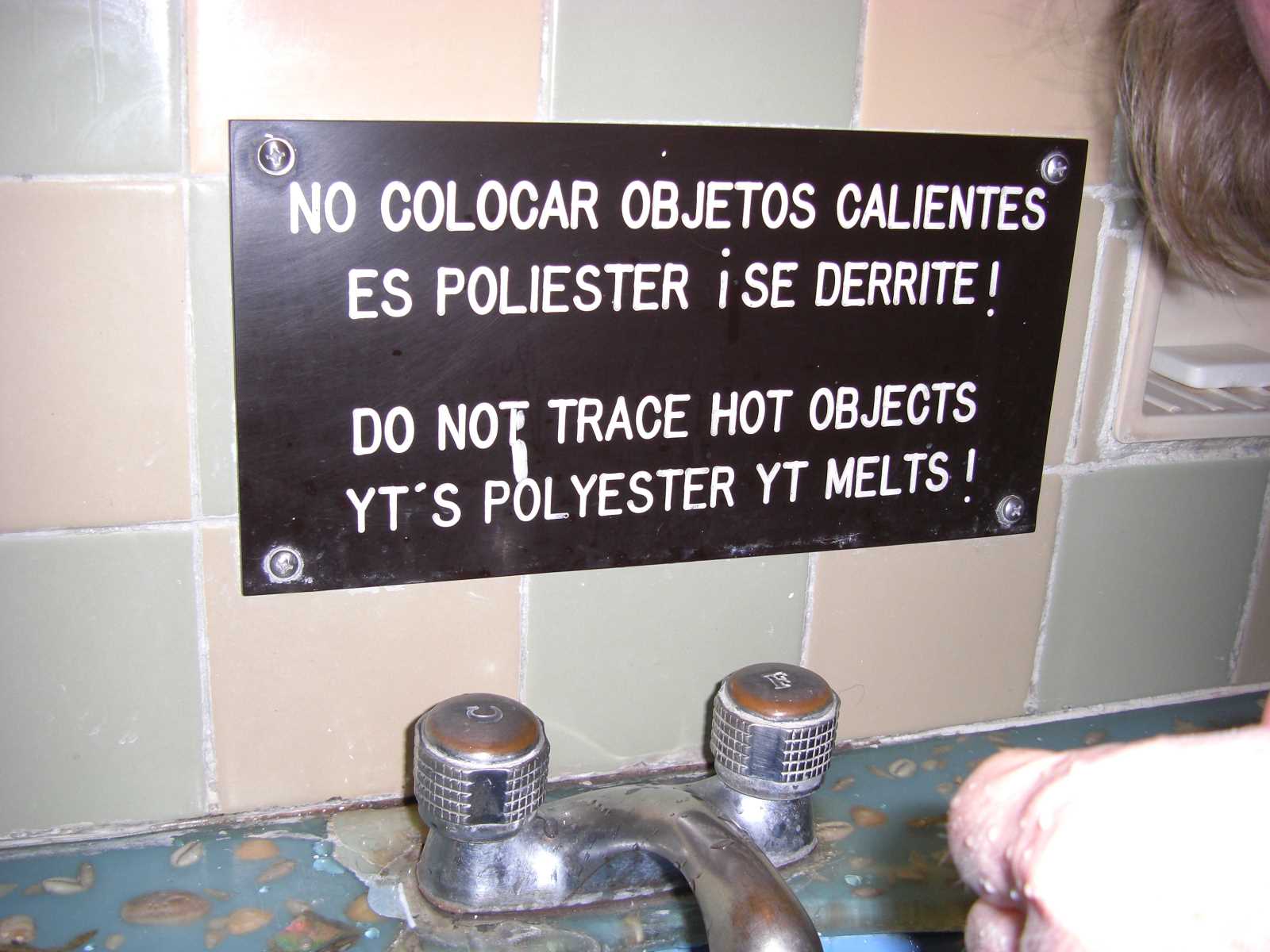 ↓ Purified water in our rooms. Coca Cola's brand.
(Vincente Fox was a Coca Cola executive before becoming President of Mexico in 2000.) ↓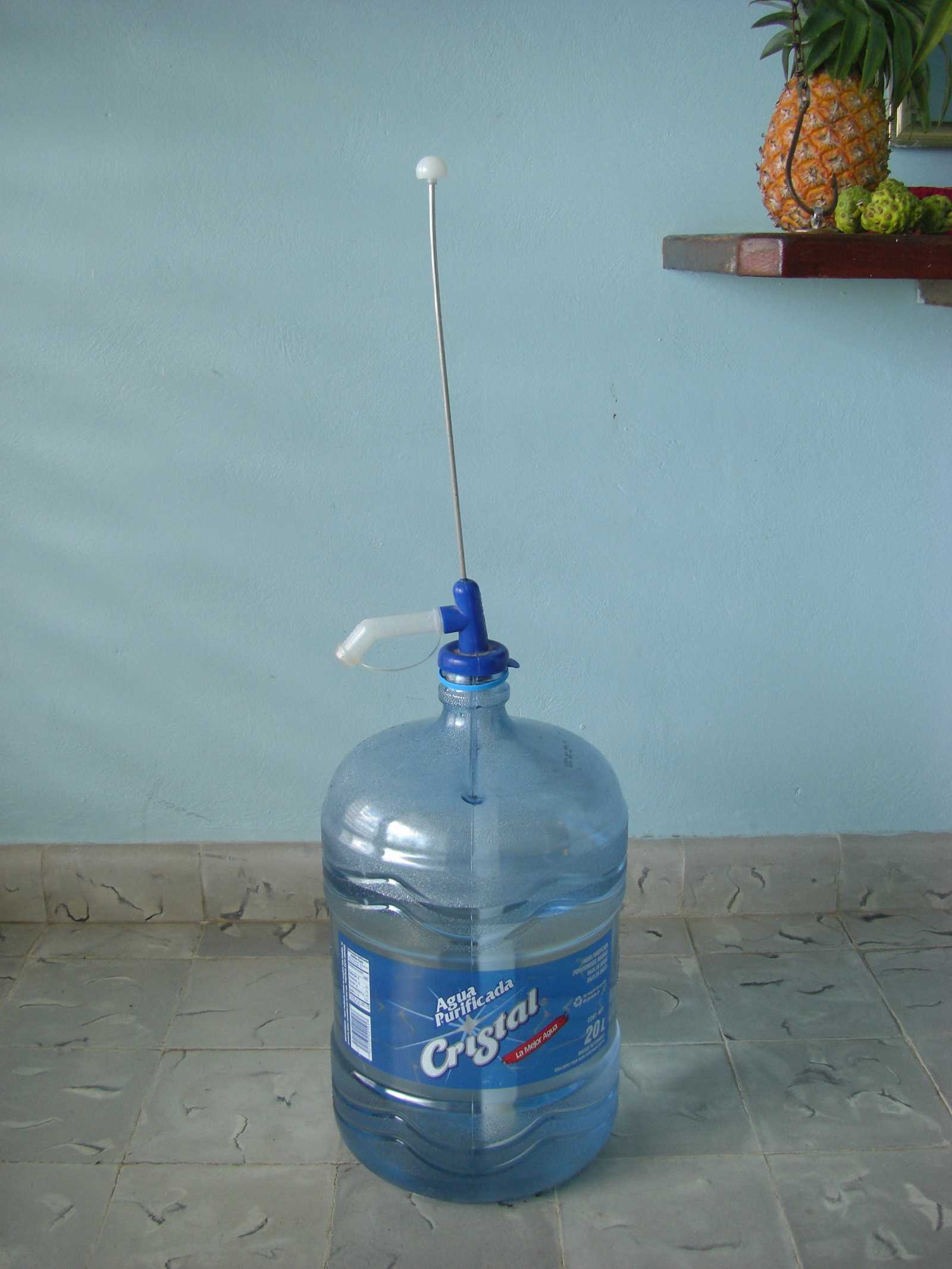 ↓ This area along the lake is relatively densely developed.
It is near Chetumal, the state capital here in Quintana Roo and it is also very near the Belize border.
Belize (former British Honduras) is reputed to be a wealthier place. ↓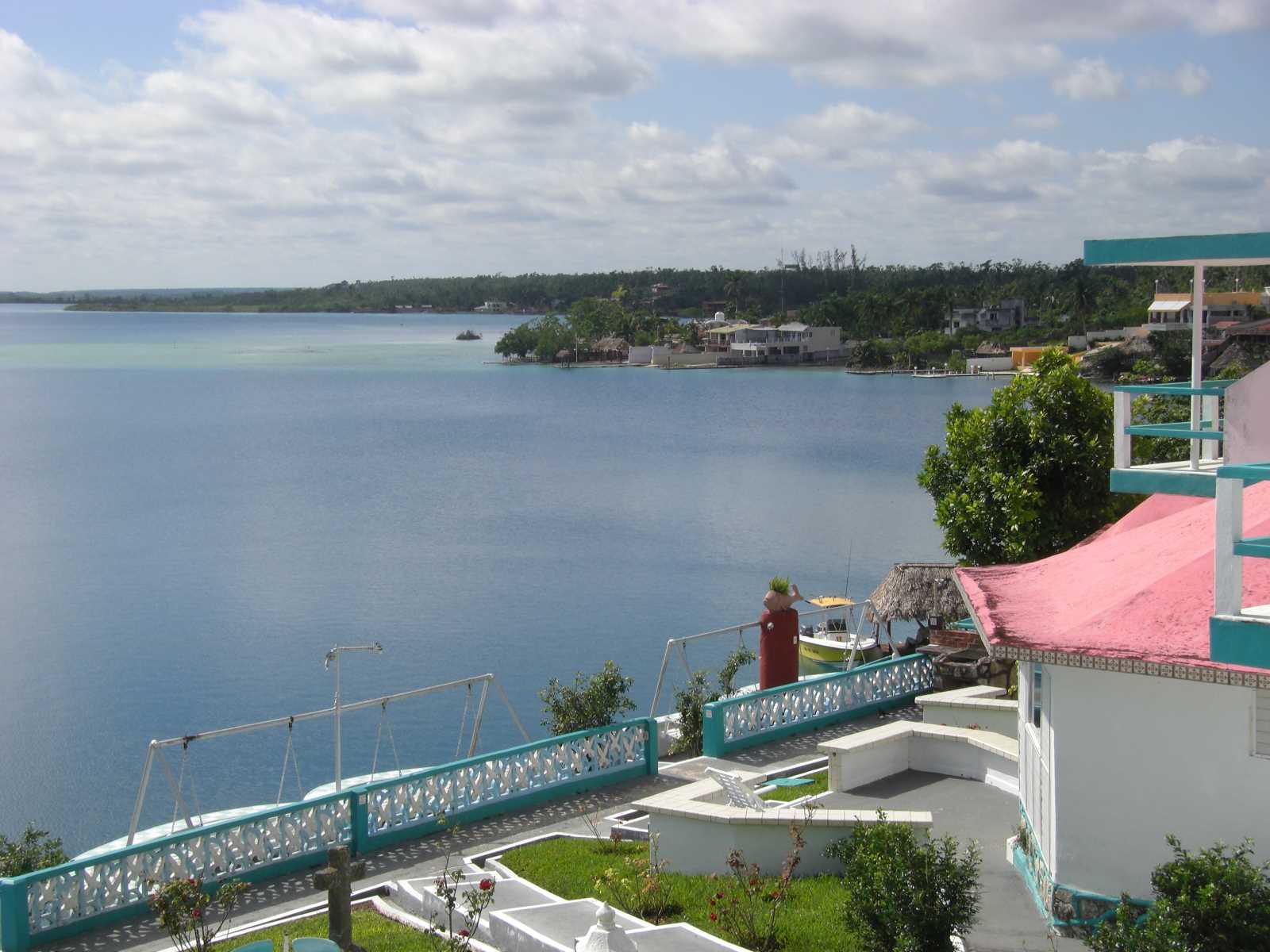 ↓ Conch and clam shells rim the bar's roof.
Since these mollusks are also food, their shells were probably by-products
at the time they were used in this construction. I found it interesting and the hotel very nice indeed,
though it got slightly slammed in the guides for having this profusion of shells. ↓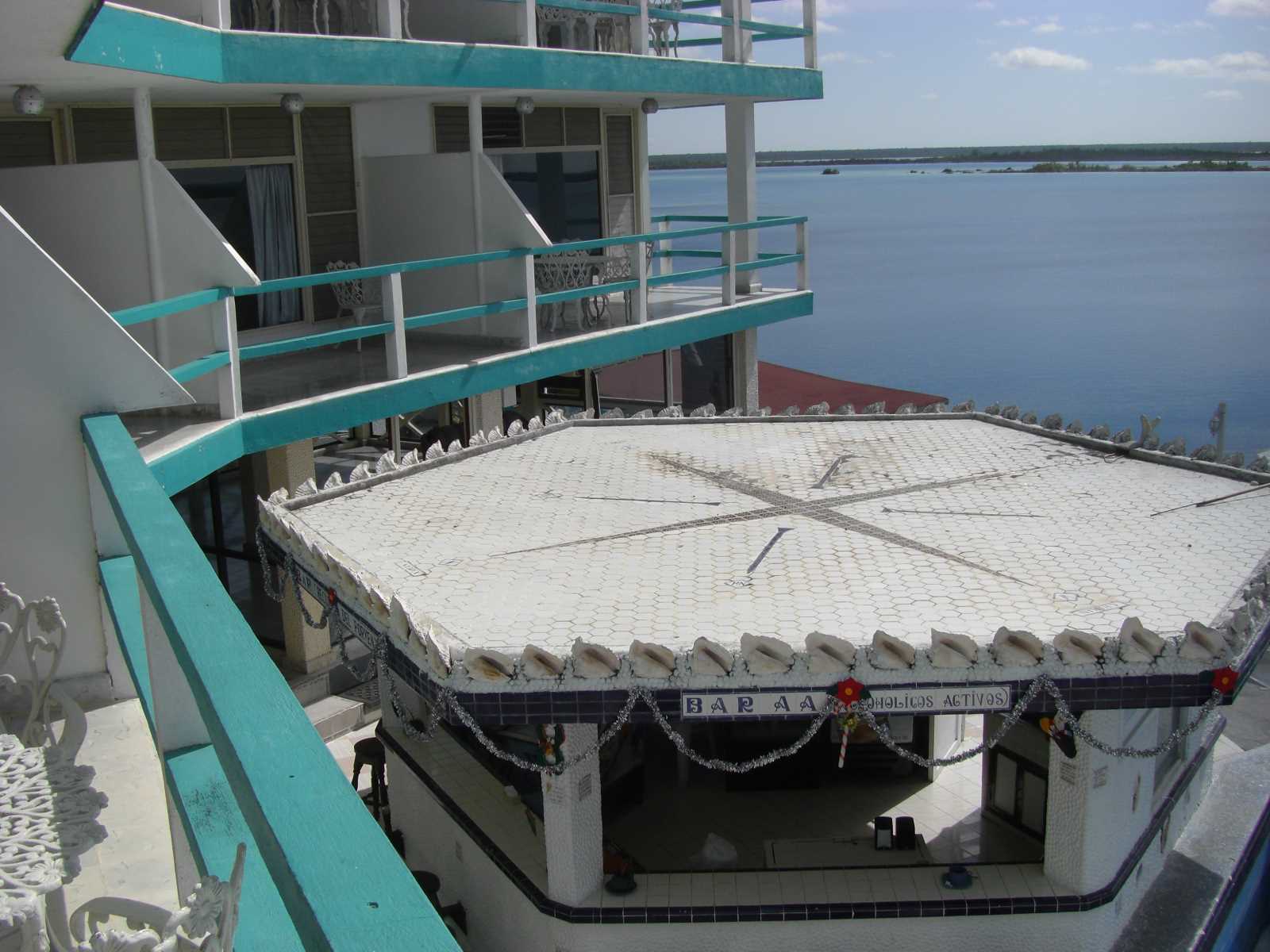 ↓ Ceiling sea shell decorations in the restaurant. ↓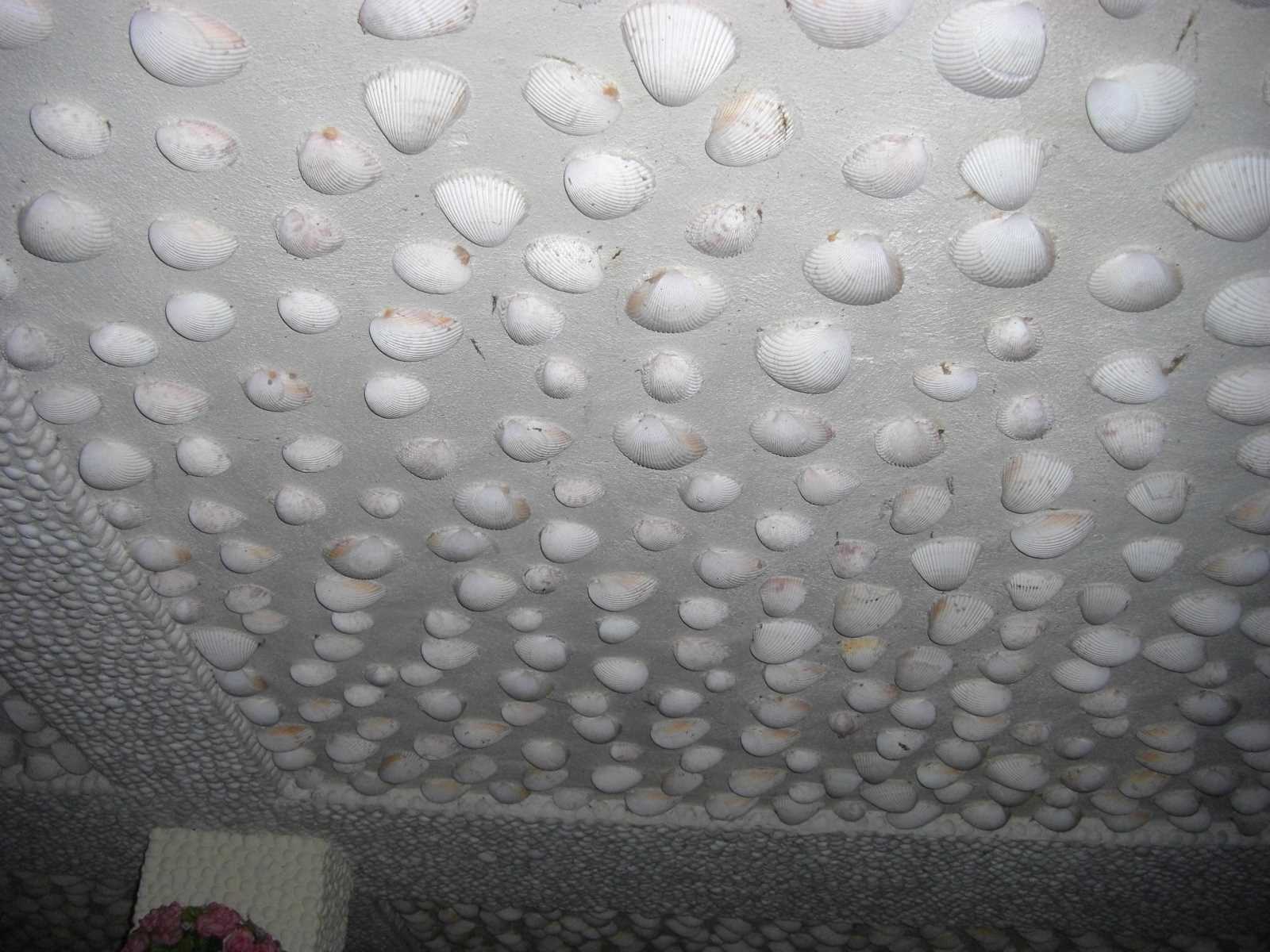 ↓ Lacy concrete balustrade with bird motif.
Hotel's entry arch is beyond and Cenote Azul is right down that road. ↓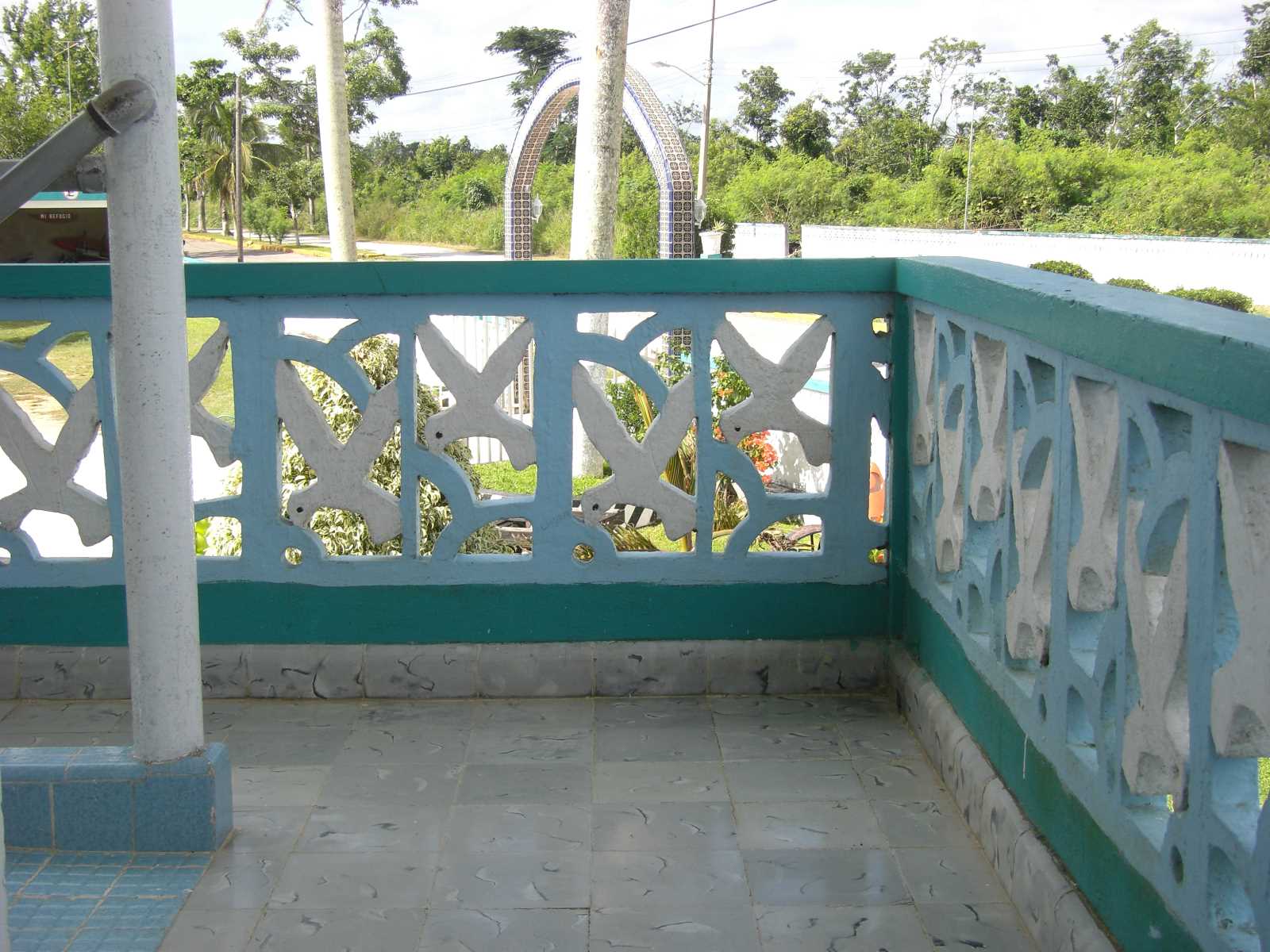 ↓ Dug out Maya canoes as planters ↓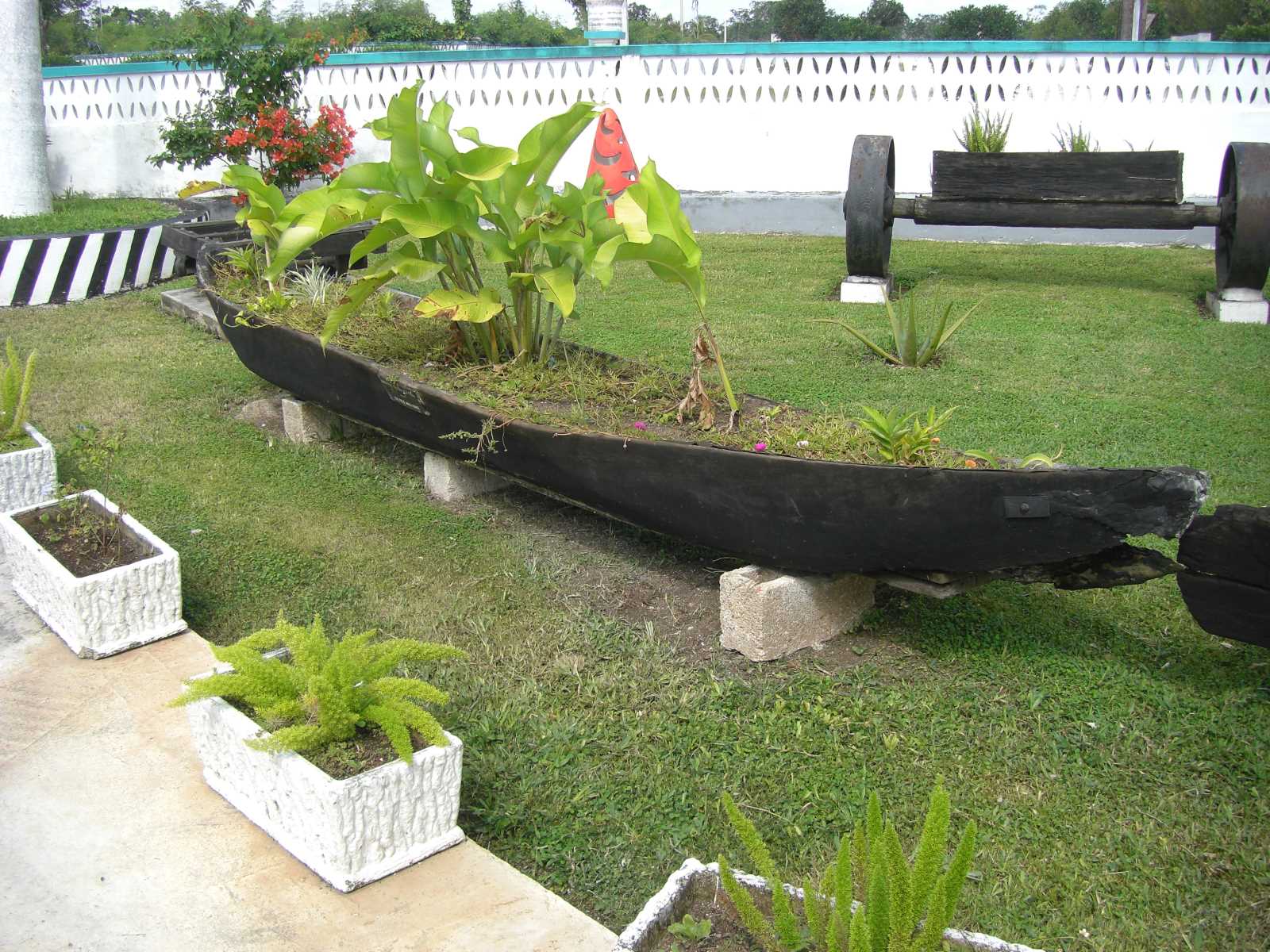 Later Tuesday morning in the town of Bacalar.
↓ The moated fort. ↓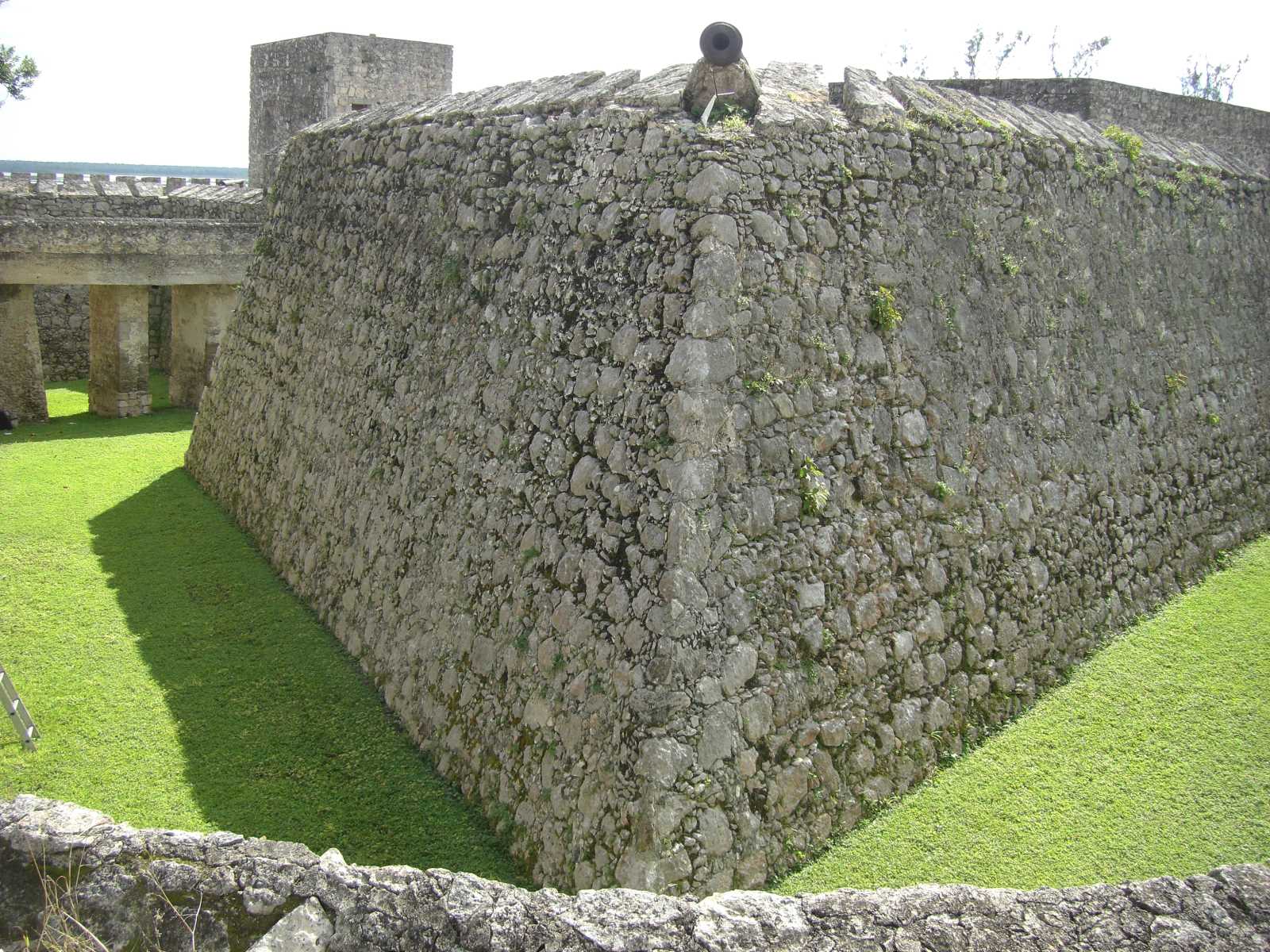 ↓ This was way down and to the left below the fort. More rebuilding after the hurricane we were told. ↓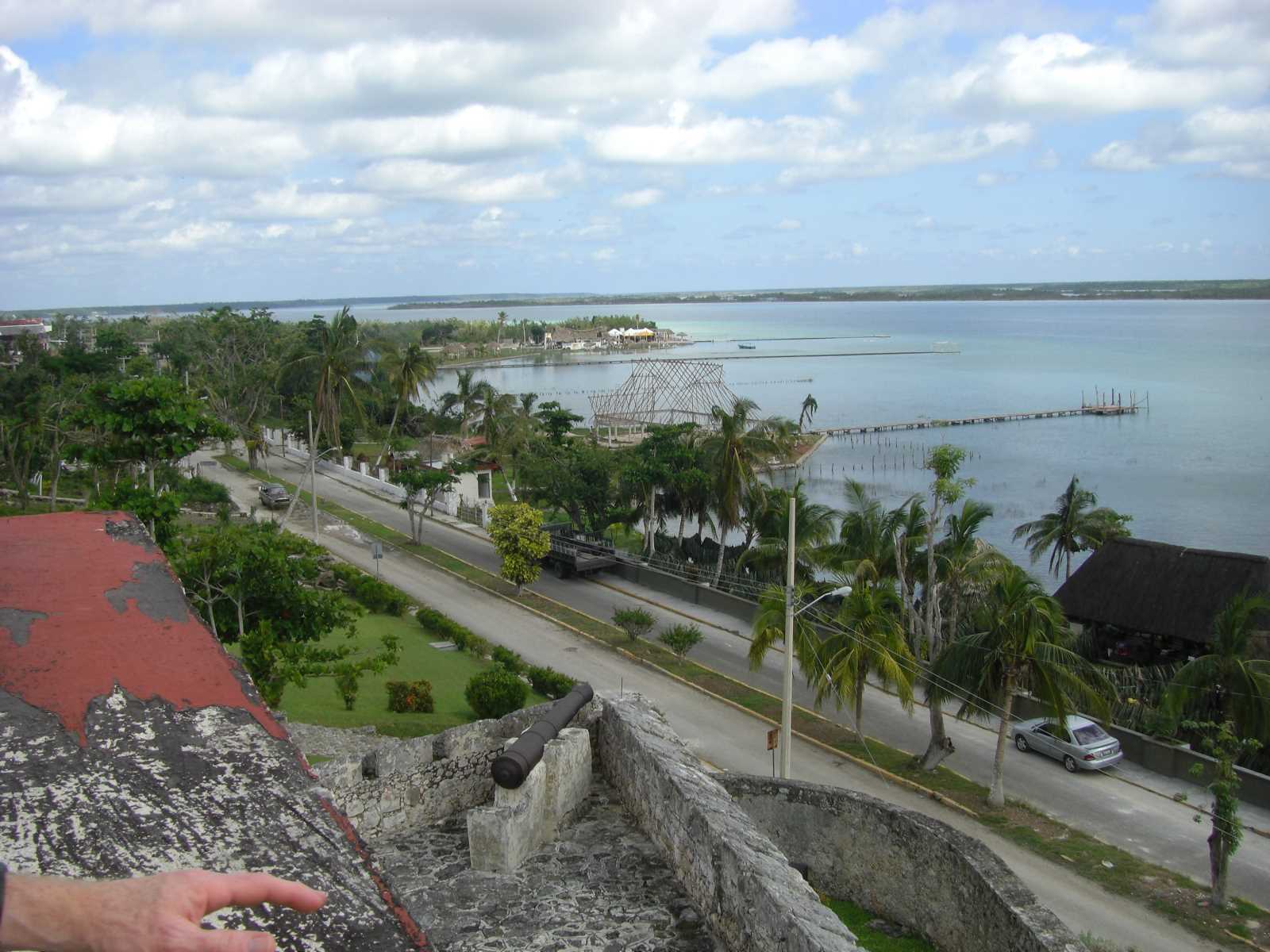 ↓ Just showing off our 7x telephoto lense.
Note the guy on the left up in the roof structure. Joe was wondering who lays the ridge pole? ↓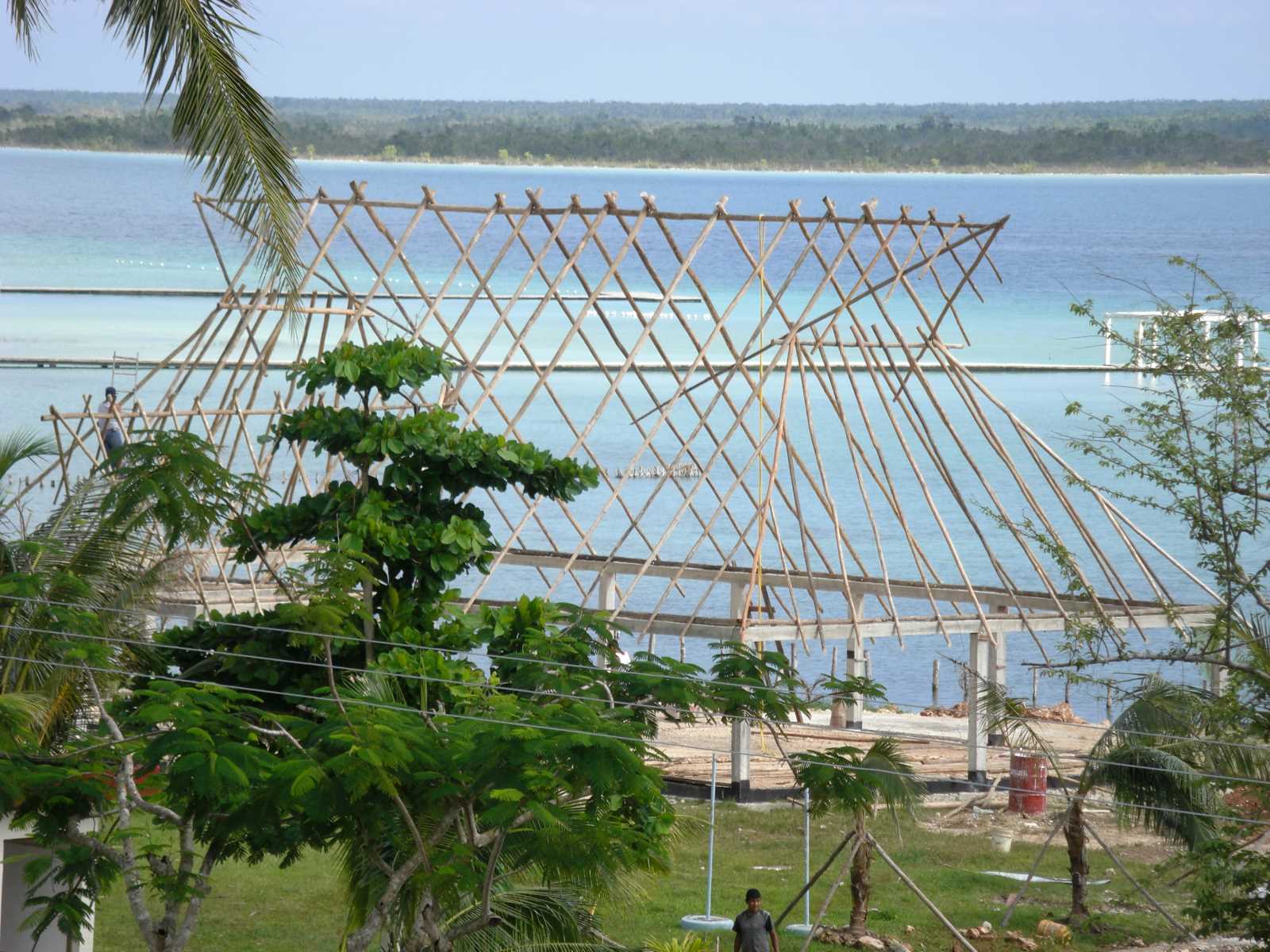 ↓ Museum entry tickets. Again that is NOT $50 US, but $50 Mexican pesos. ↓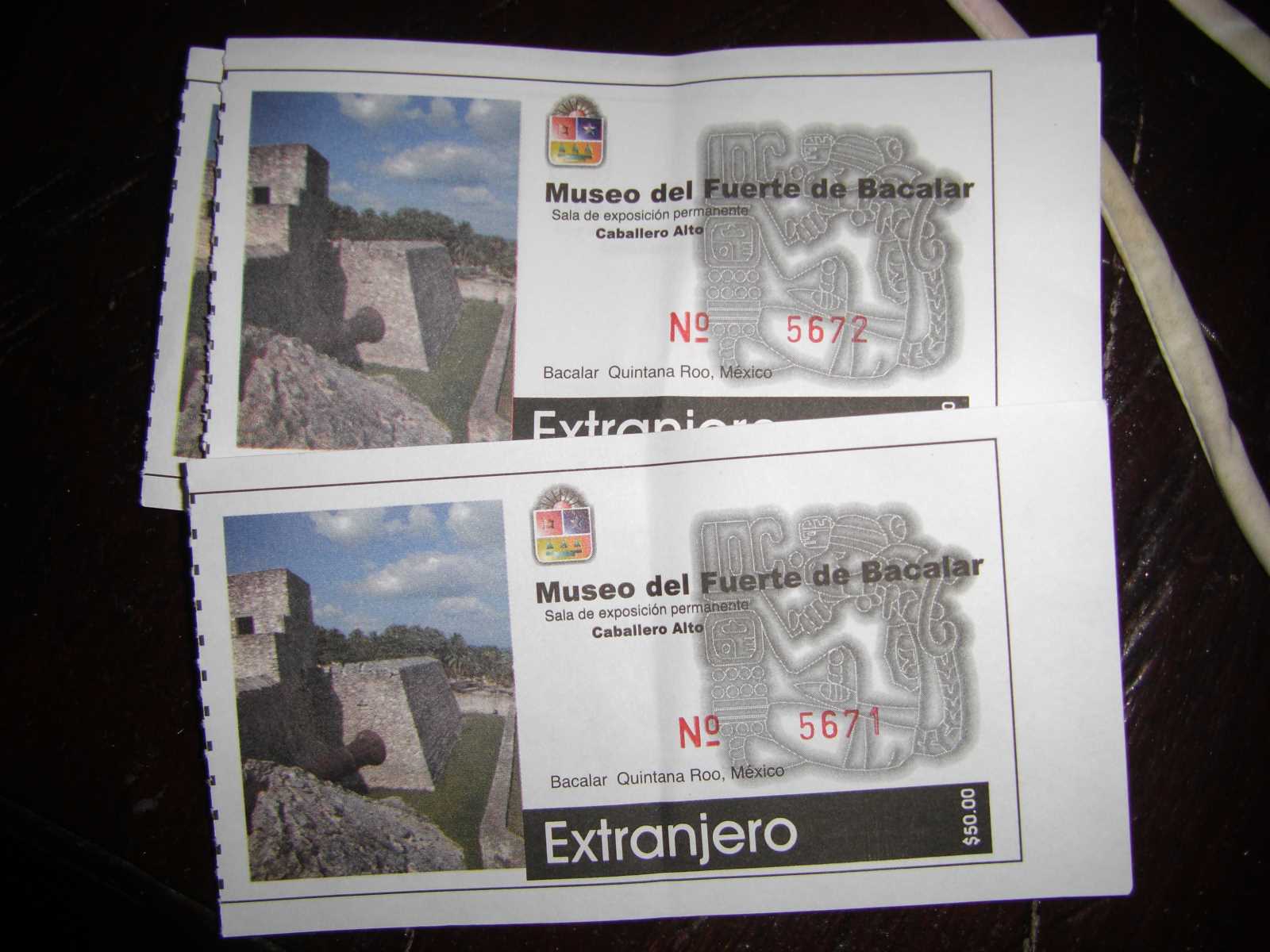 ↓ Straight down below the old fort is a small military installation. ↓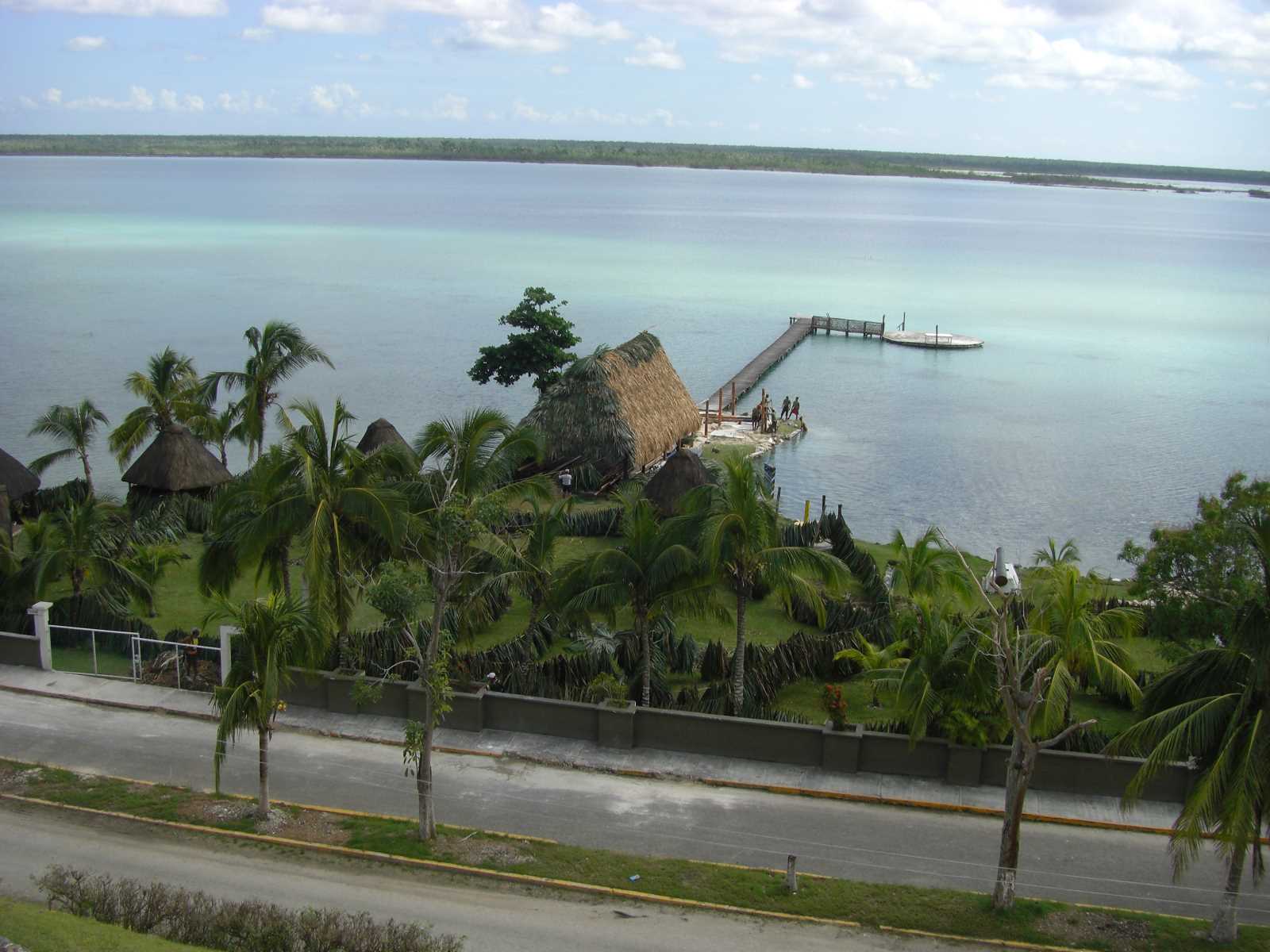 ↓ Smile when you say that!
I liked the laughing face of the fort's lookout tower. ↓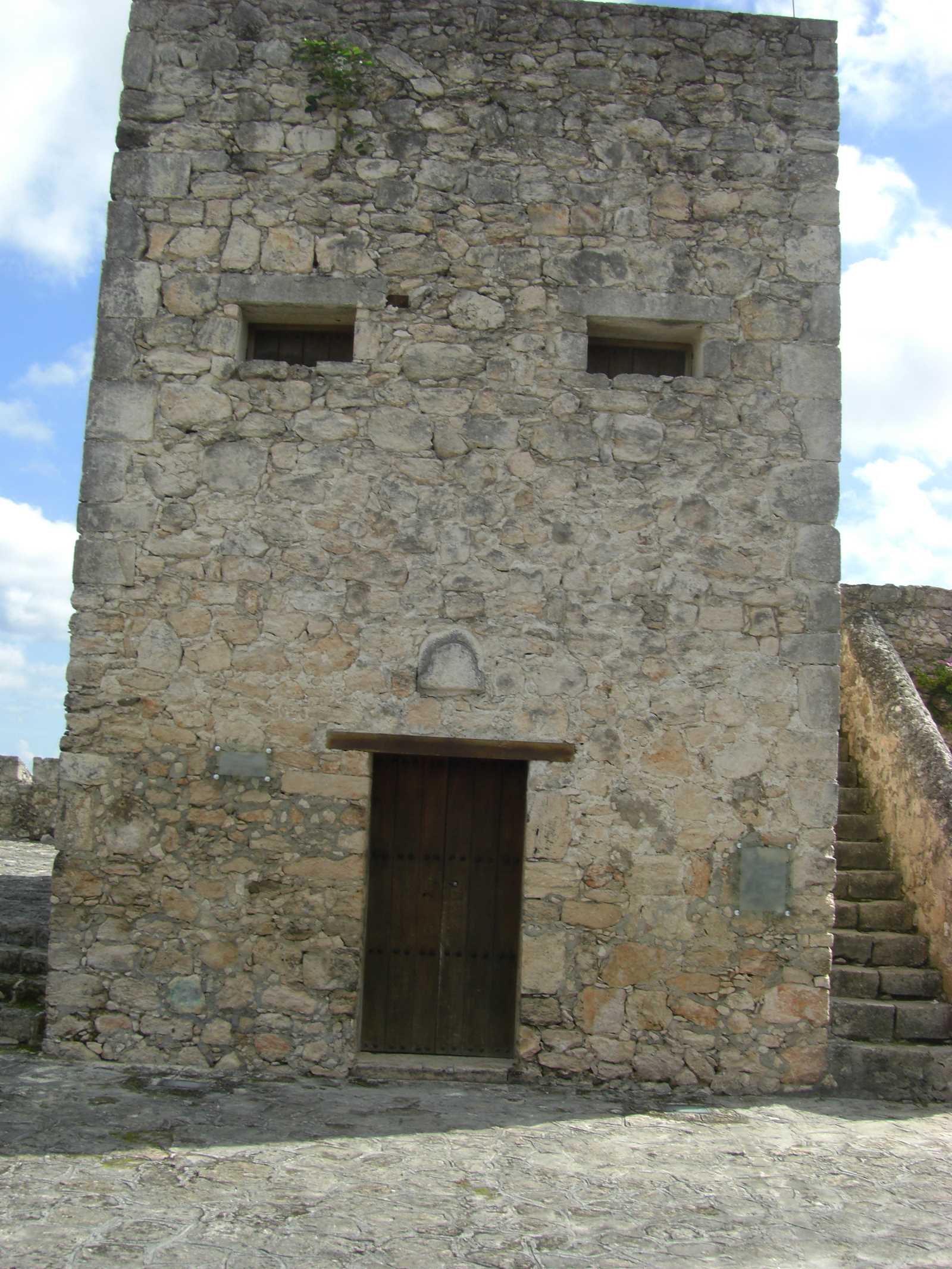 ↓ Looking west from the fort toward Bacalar's town square. ↓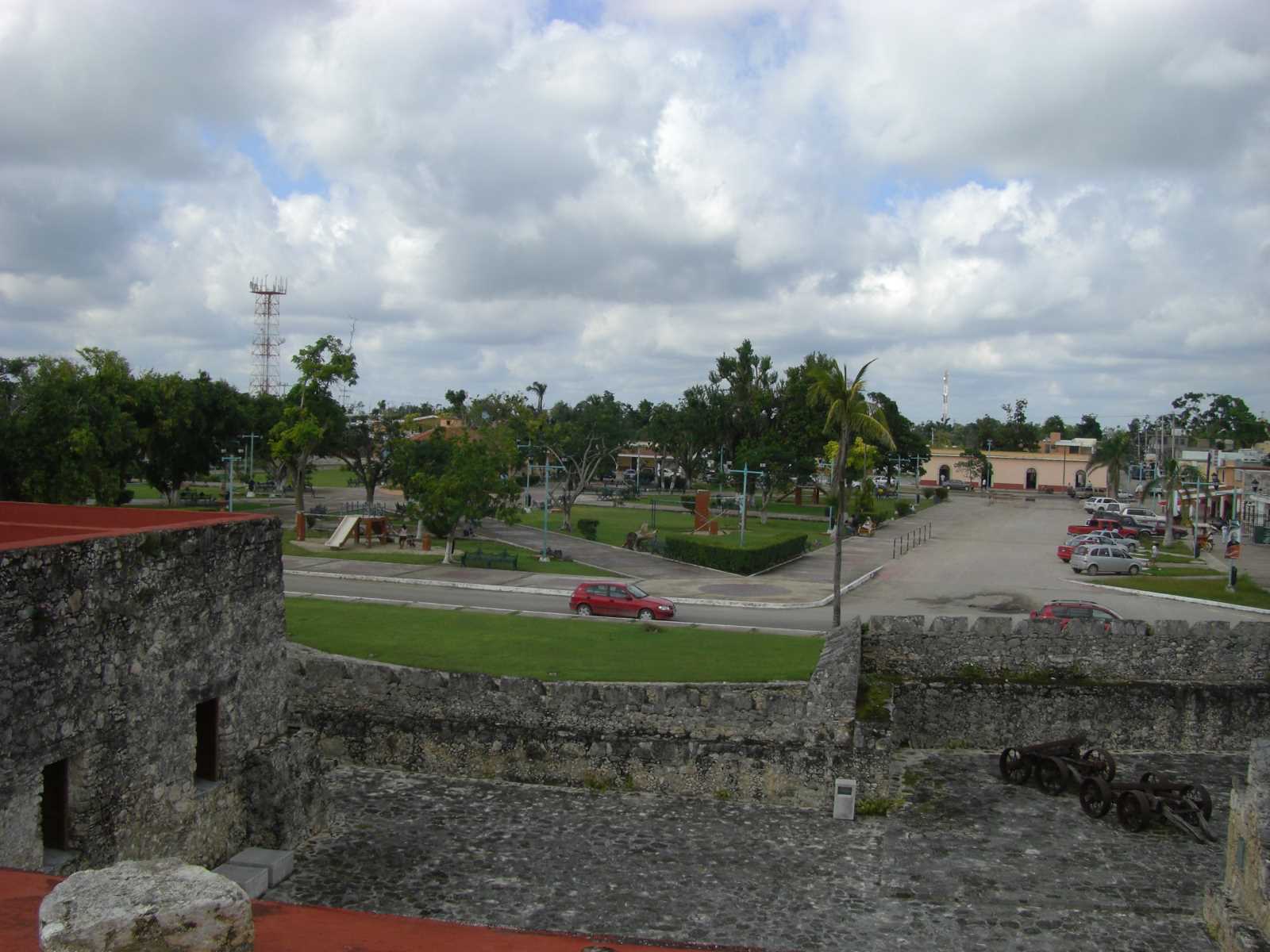 ↓ Good small museum told us about the Caste Wars in which this fort played an important part.
This sign says the fort was originally built to protect the Campeche wood trade —
the source of a blue dye important to the emerging European textile industry of the 18th Century. ↓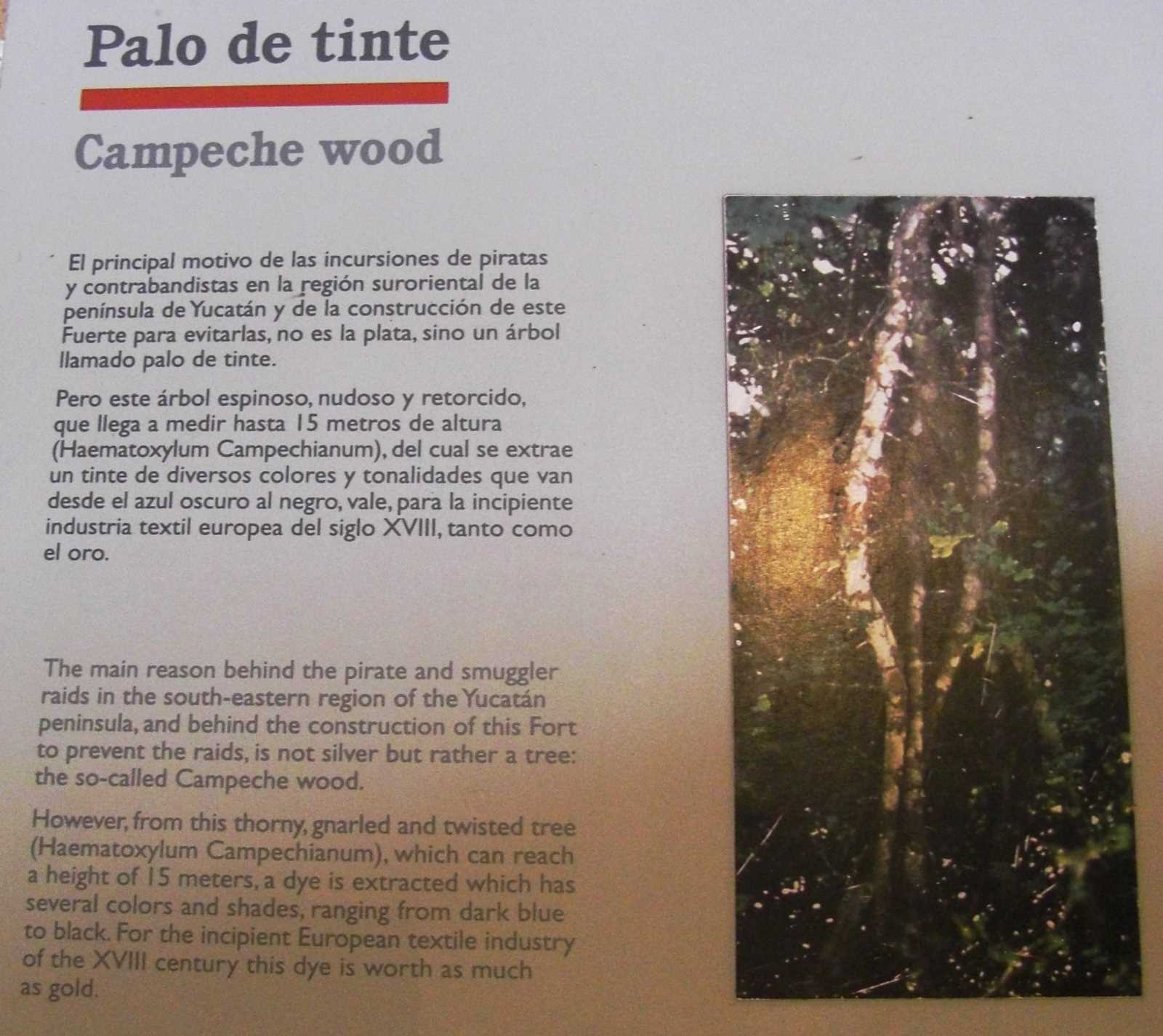 ↓ Ohmigod! It was getting ready to swallow Joe and I didn't even notice it at the time! ↓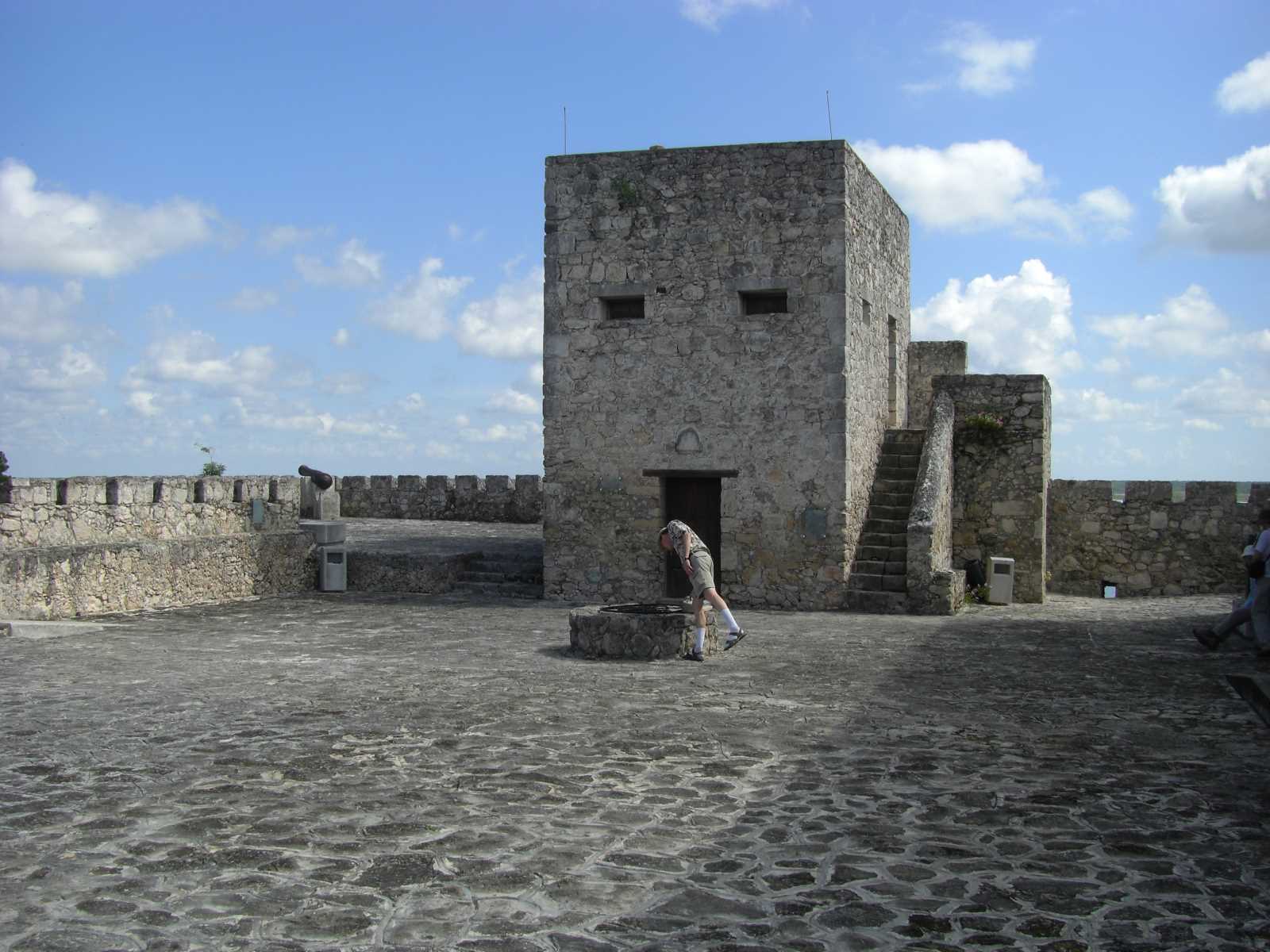 ↓ Many houses have shrines.
This is painted on a carport wall in Bacalar. See the Virgin stepping out of her niche to help the man? ↓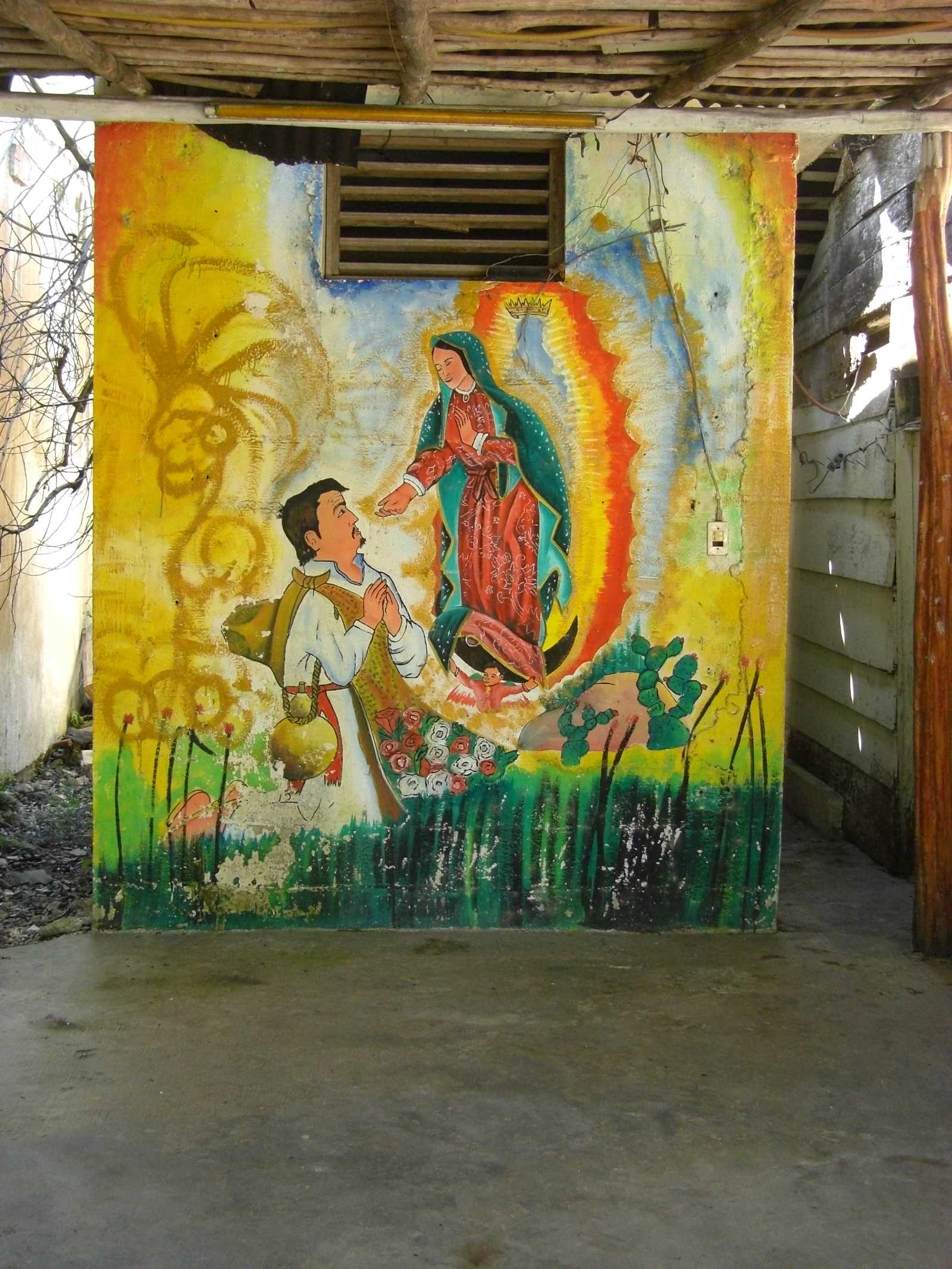 ↓ This is an auto mechanic's shop along the highway in Bacalar. ↓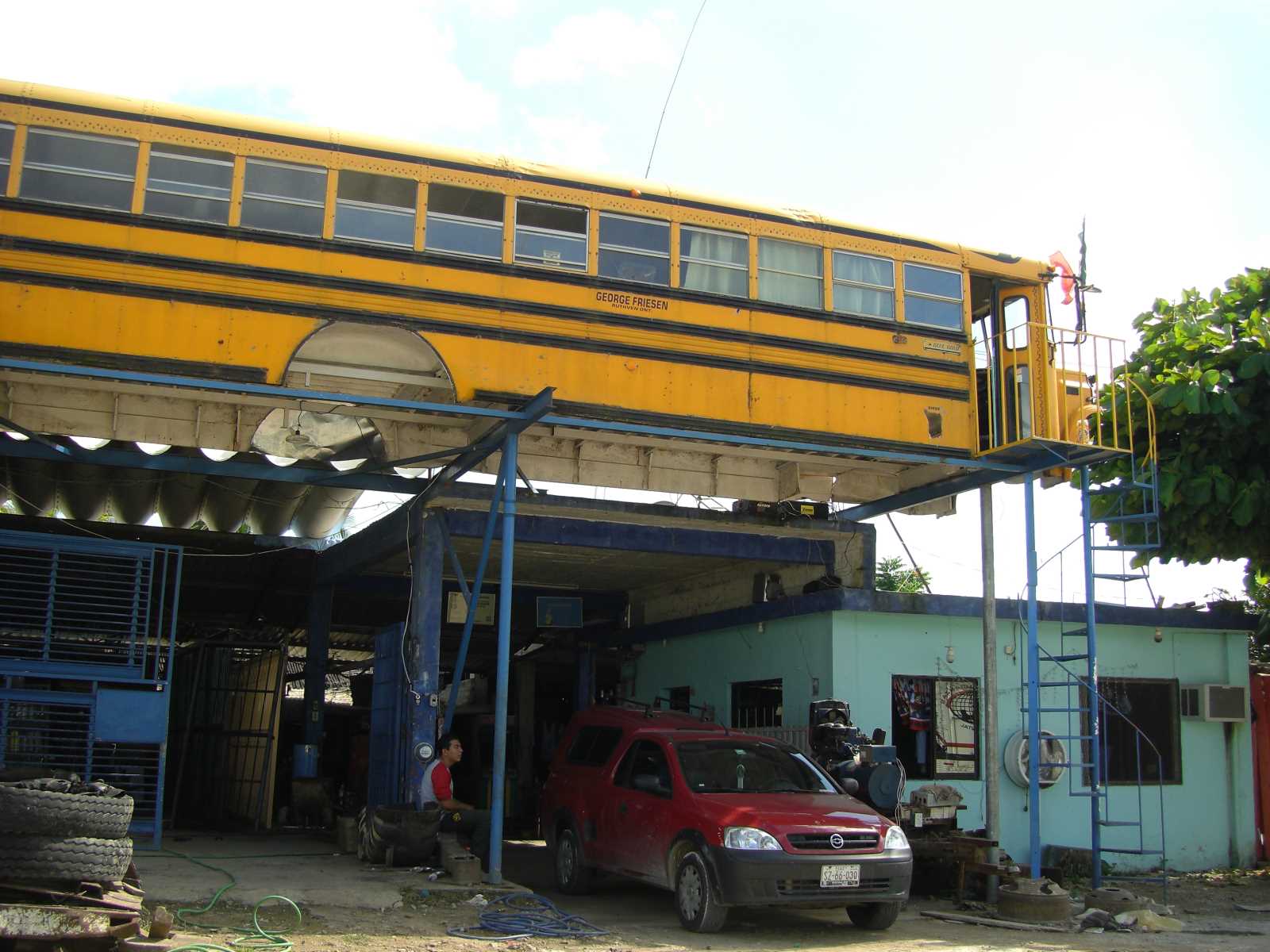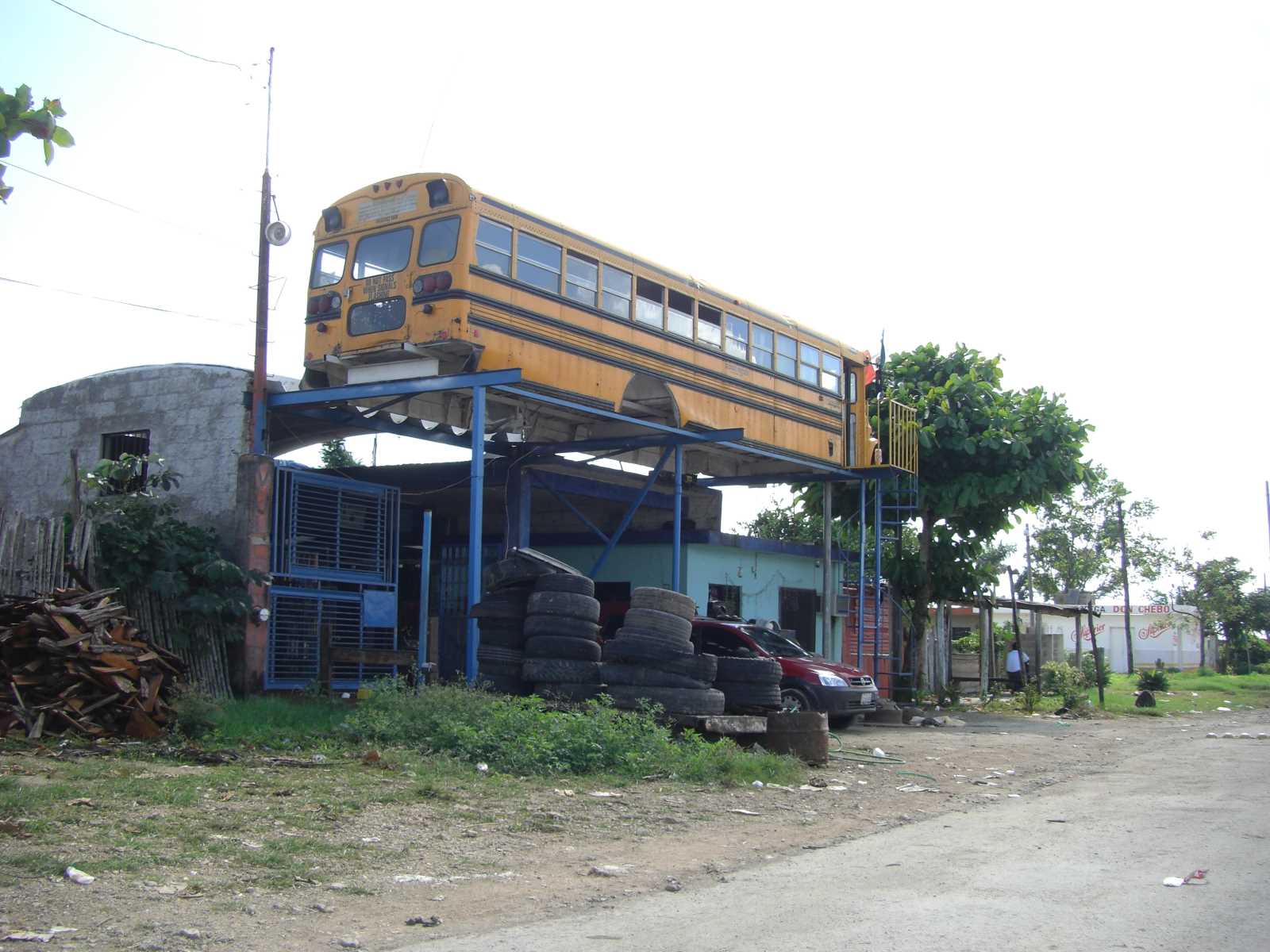 ↓ Bacalar is known as the Lagoon of Seven Colors ↓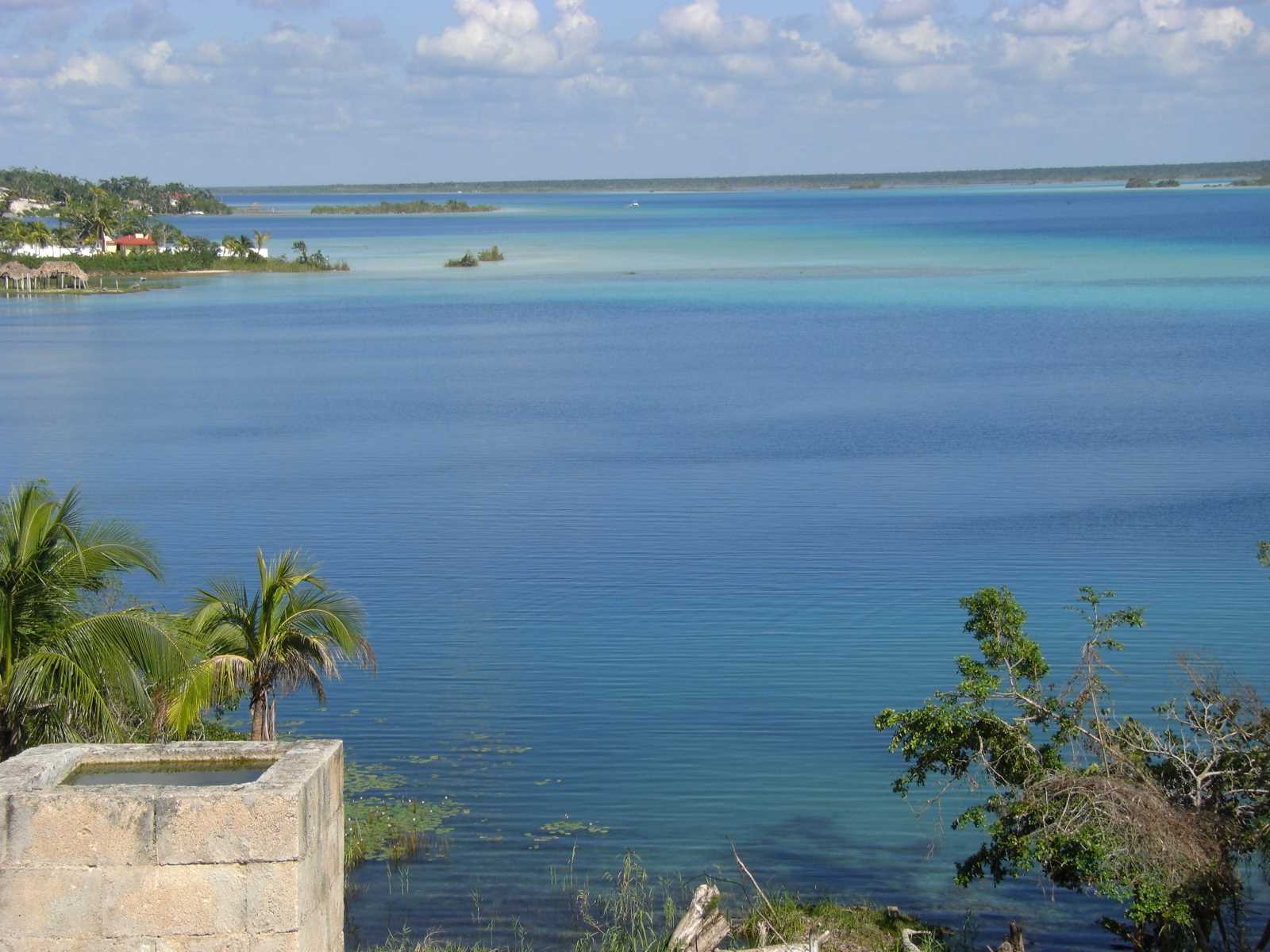 Later Monday morning on the road to Dzibanche.
↓ Leaving the coast, we turned west,
but did not go even half has far as the nearest of these two destinations signed. ↓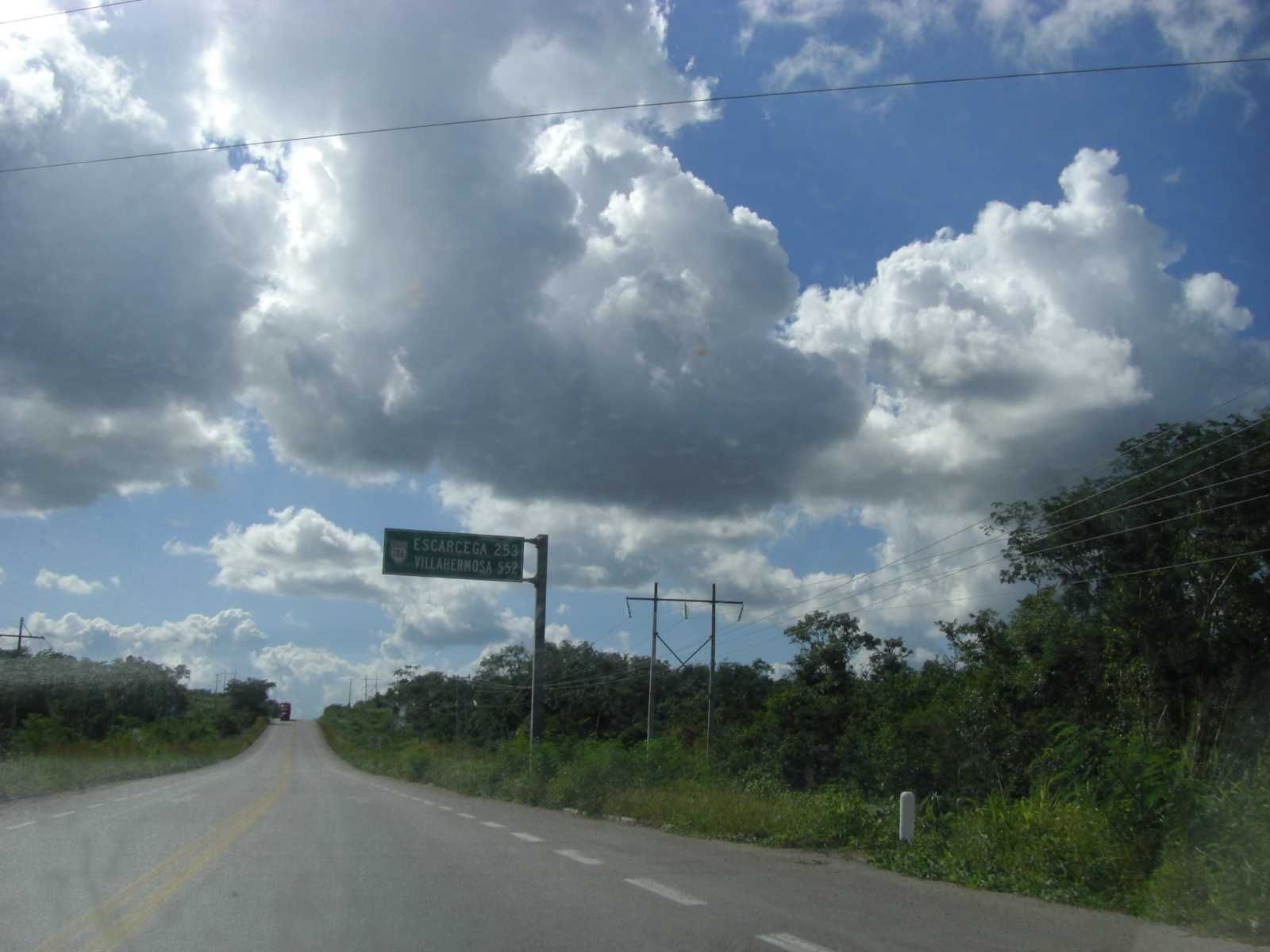 ↓ We later read "some people still use horse drawn carts to carry their honey to market."
This could have been water or maybe chicle sap or ??? ↓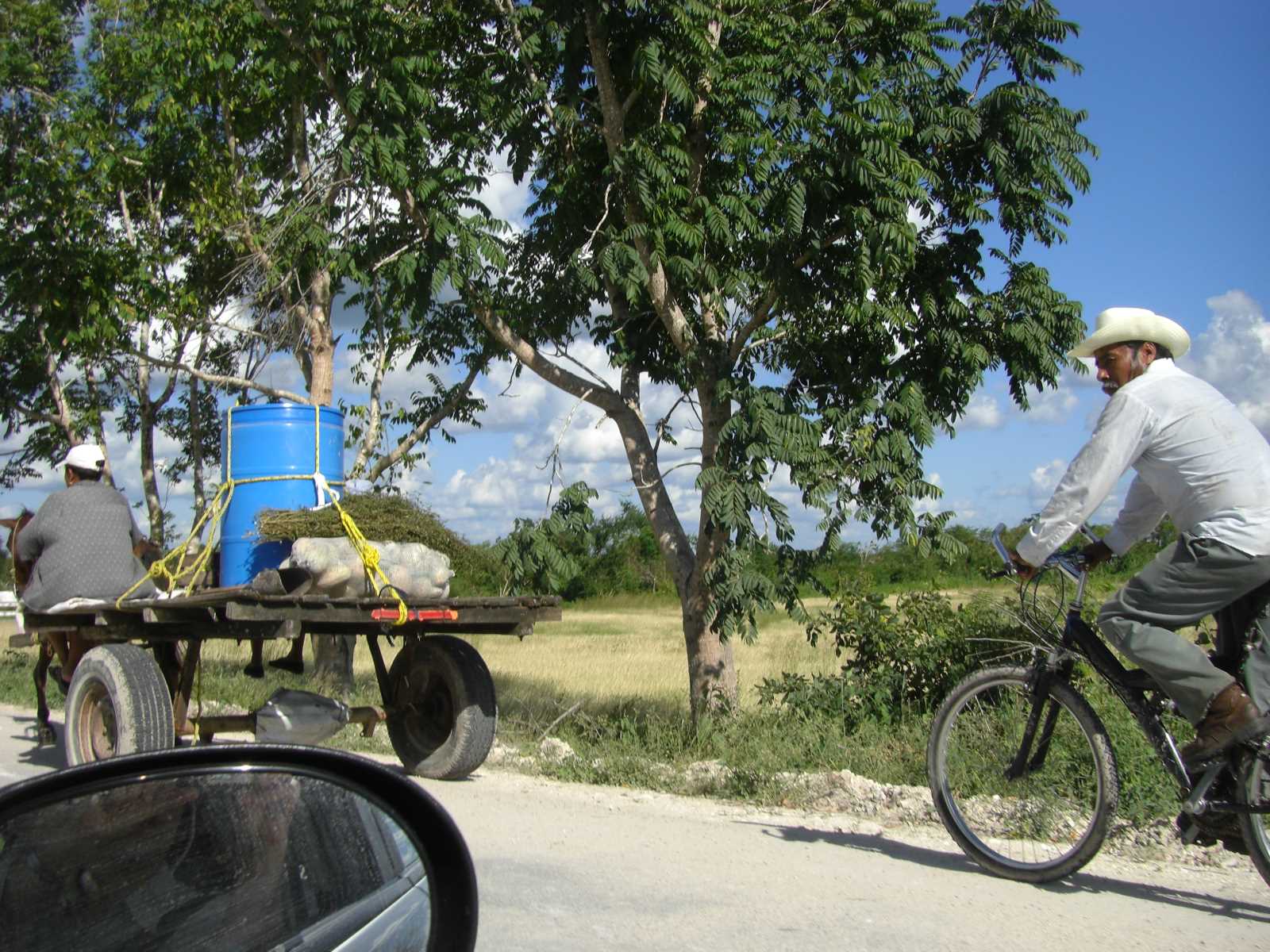 ↓ A woman is driving with a grandmother and child riding shotgun. ↓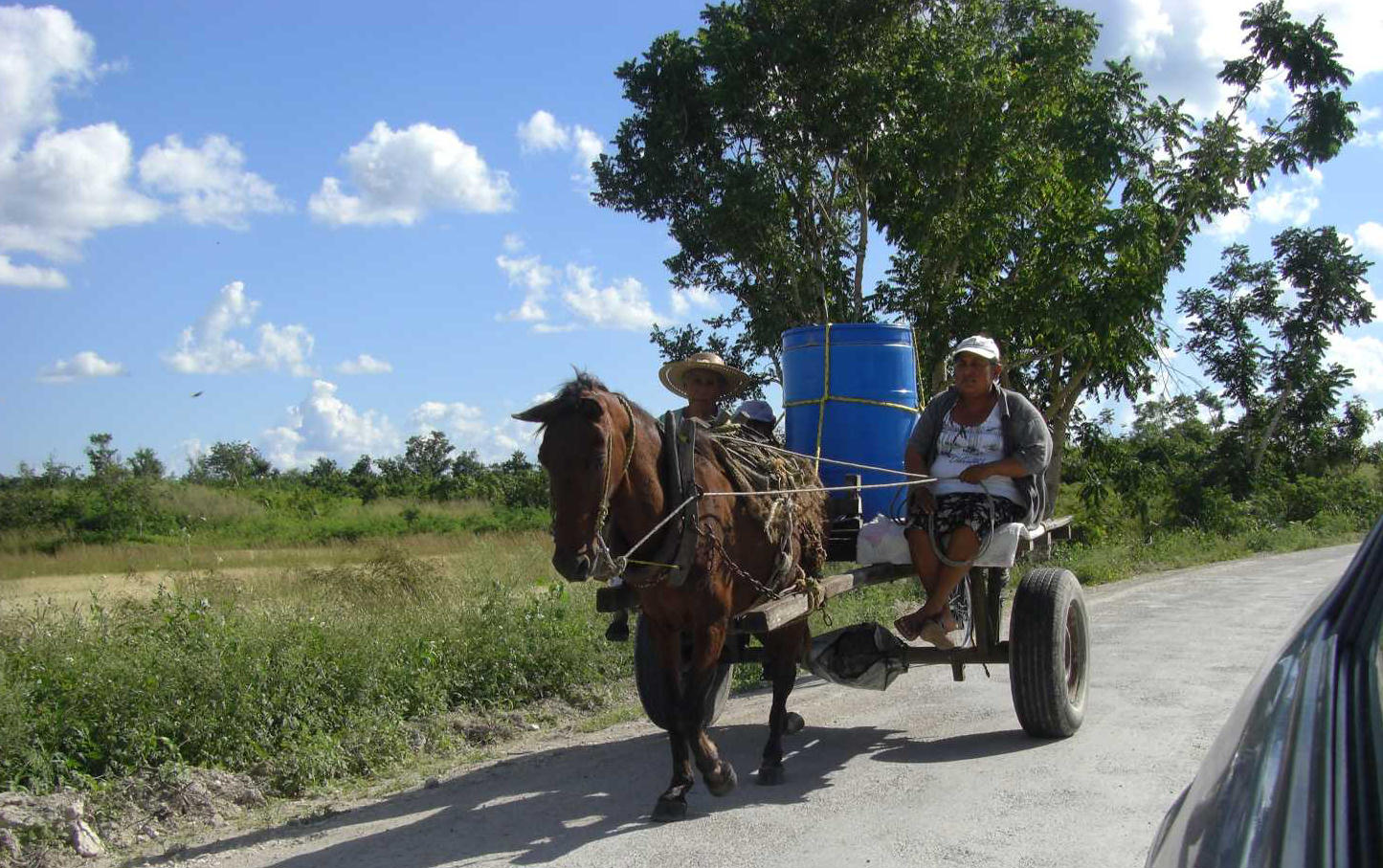 ↓ To get to Dzibanche we had to take a very long side road that went through the busy village of Morocoy. ↓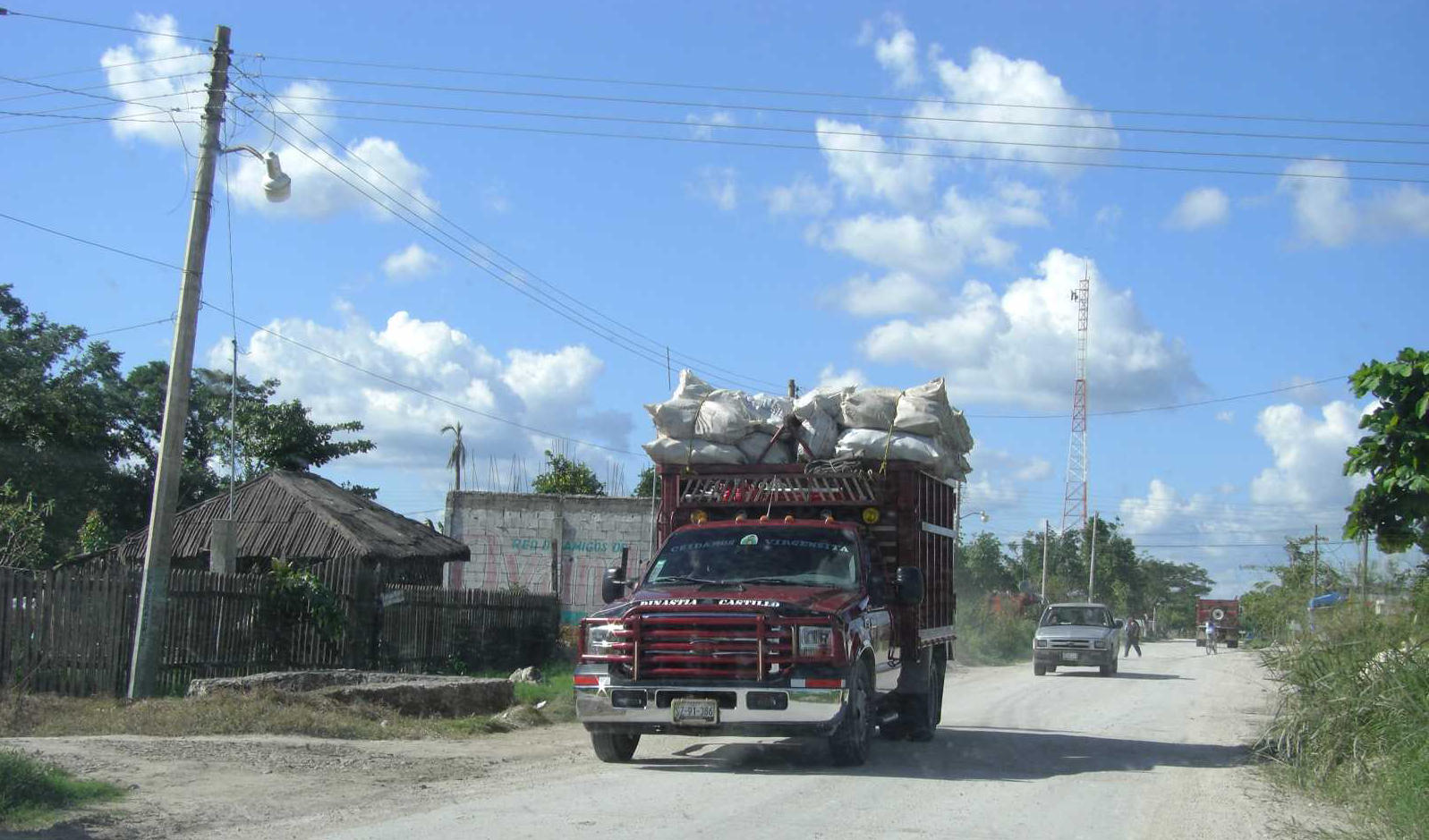 ↓ Even little Morocoy has a big town square ↓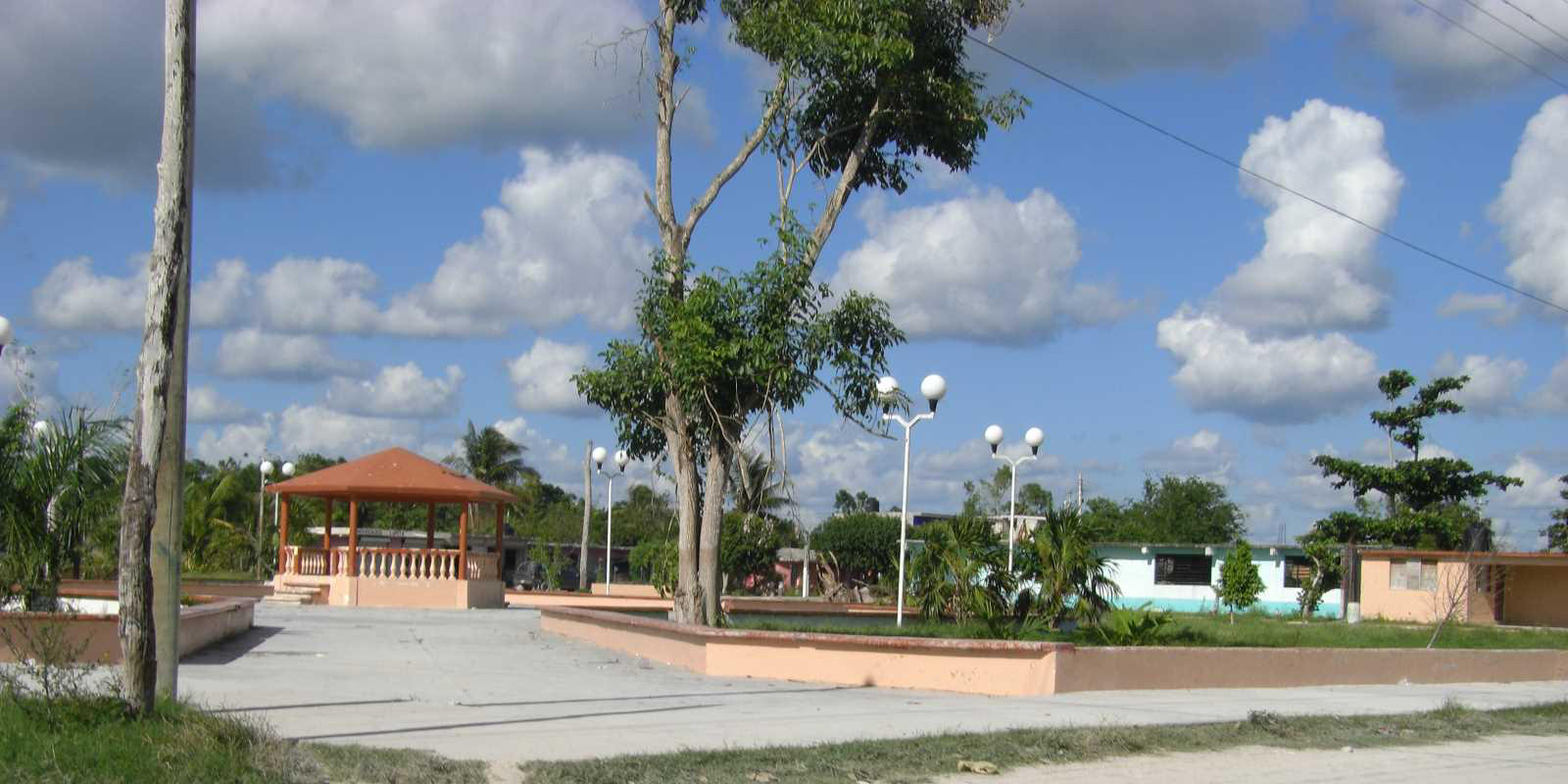 ↓ And it has a telephone office that doubles as a tortilleria. ↓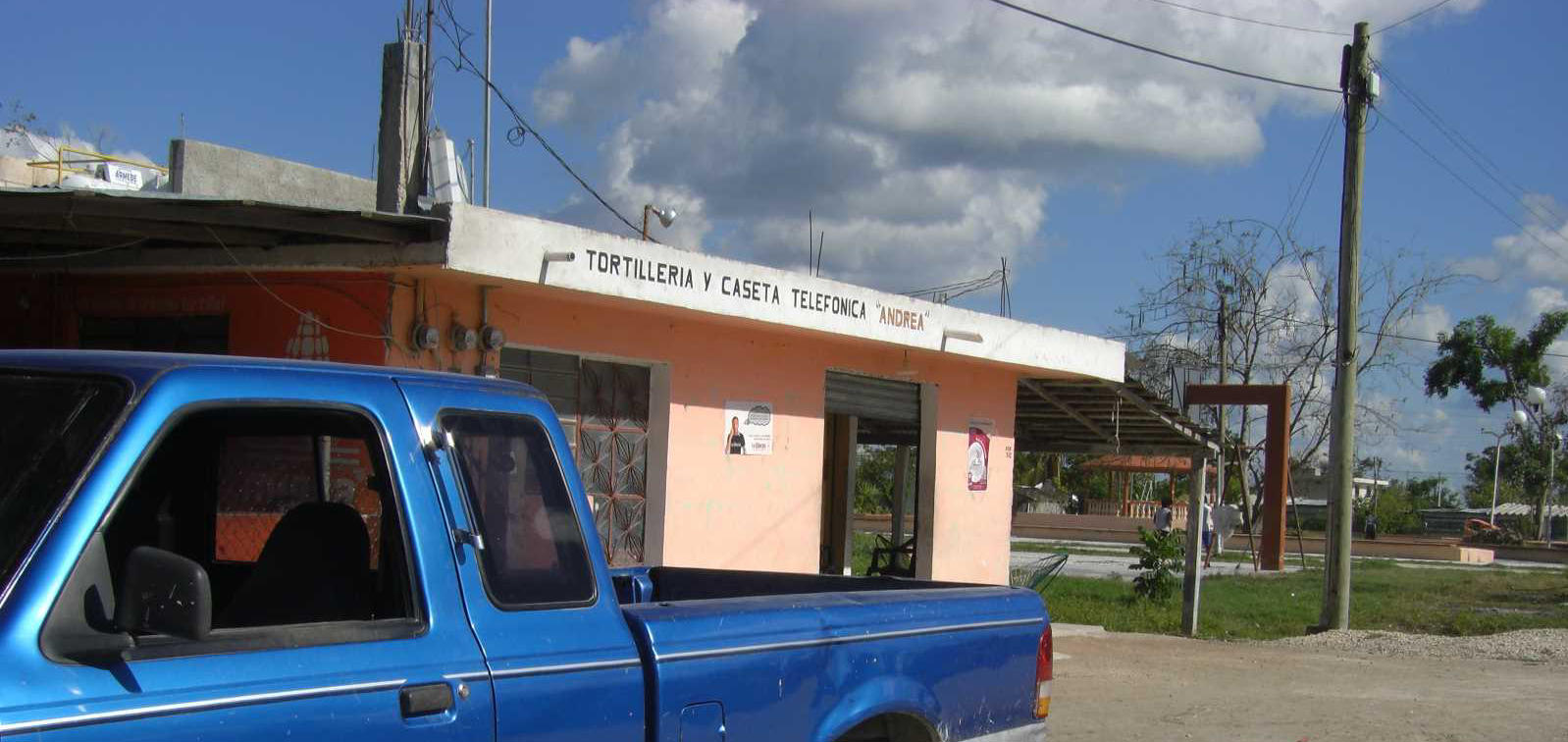 ↓ Tropical cattle ↓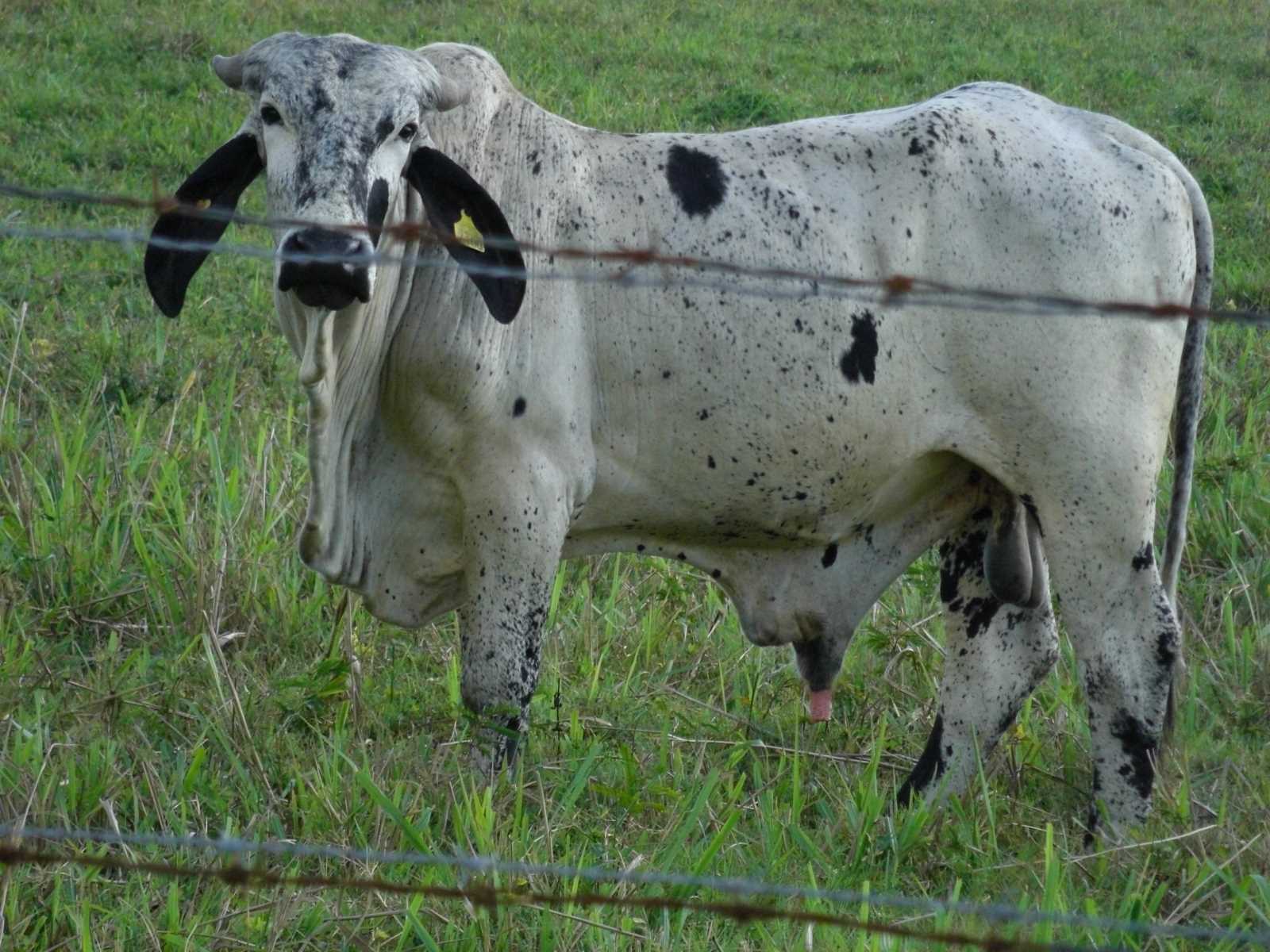 ↓ and their egrets ↓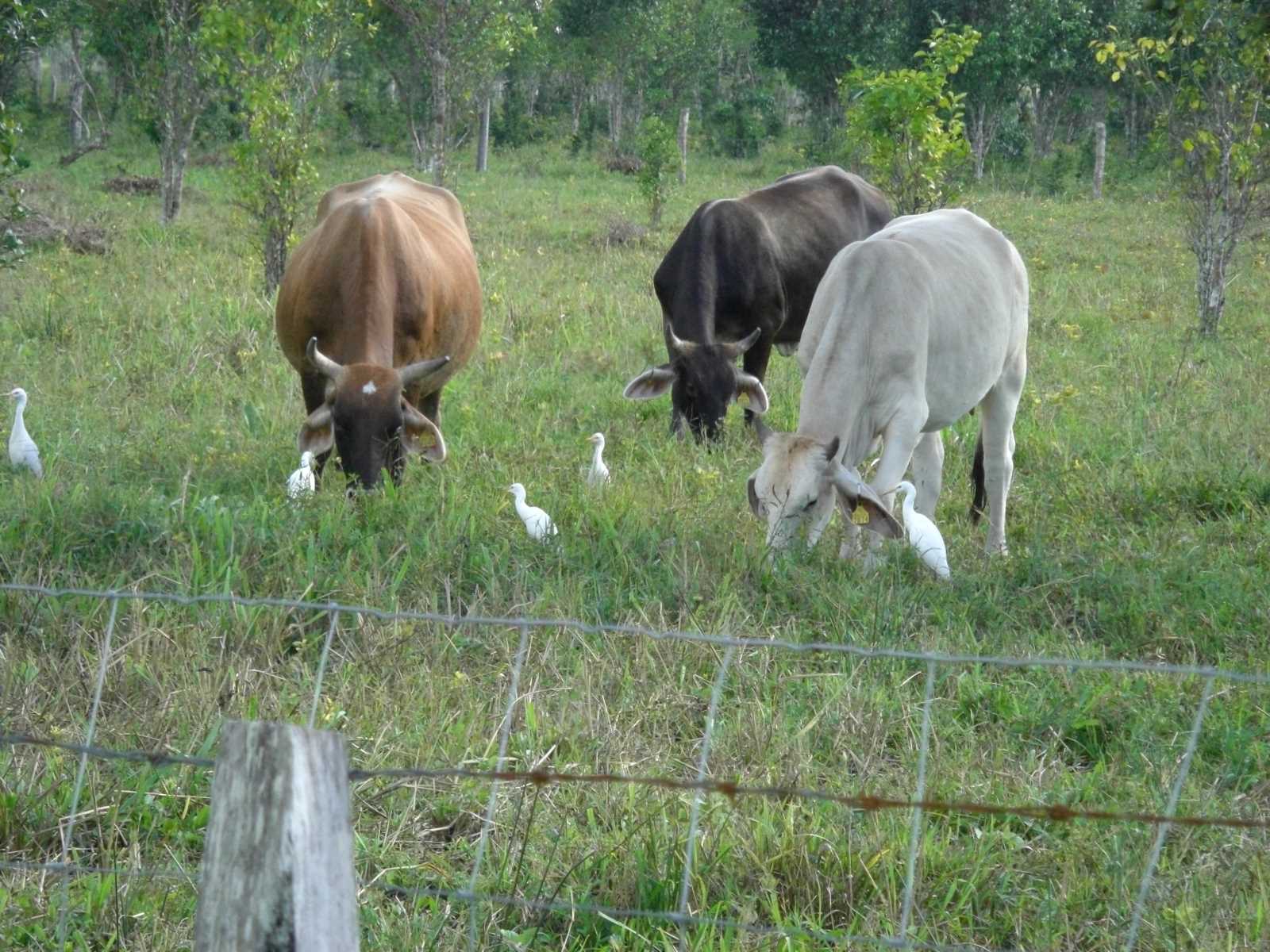 Previous set of photos Next set of photos Back to Travels page