Return to SueMap Home Page
Cat's Meow
Contact Access Tool
Cat's Meow was created expressly for NAMI -- National Alliance on Mental Illness
Track all types of contacts.
Find, Sort, and Group contacts with an infinite range of options to suit individual affiliate needs.
Simple Accounting for membership payments, monetary donations, non-cash donations, and volunteer hours; with thank you letters and receipts.
Custom and Canned Letters, Labels, and Email functions, plus customized Membership Application/Renewal Forms.
Maintenance functions for in-house control of most features.
Help Buttons located on each page.
Quality functions for data entry integrity.
Not a web-based system. Your copy of the Cat's Meow application and all your data remains in your possession. Back it up on the web or on disk, as you choose.
***
" Sue, it has been an absolute delight working with you. You've put together a database product that is
at once intuitive and sophisticated, something that has made my job here so much easier.
This really is as comprehensive and integrated as any development director could want.
Thank you for making my job easier!"
-- Jeri Shumate, Development Director, NAMI Multnomah

"Your excellent work on the database is invaluable - we're so fortunate to know you!!!
Thank you so much for all you have done for us...!! Was really fun working with you on db transition..."
-- Terri Walker, President of NAMI Multnomah

"This is awesome Susan. You and Joe are a wonderful asset to many NAMI affiliates!"
-- Michele Veenker, Executive Director, NAMI Clackamas County

"He wrote: '[The receipt] was top notch. Best I ever received detailing a donation.'
And he donates to quite a few causes, so kudos to you!"
-- Michelle Madison, Development & Events Coordinator, NAMI Oregon

"I received the quoted email [above] from a member whose father donated to our silent auction and youth Secret Santa.
This is regards to the quality of our in-kind receipts."
-- Laura O'Neill, Executive Director, NAMI of Washington County

"Hi Sue, ...love the tweaks I've just found in the reports! The new "All Receipts in Alphabetical Order" (but limited to checks showing a date of...) is perfect! You're the best--thanks for everything."
-- Jeri Shumate, Development Coordinator NAMI Multnomah

"Thank you for all your hard work and dedication to ensuring the integrity and communication of NAMI Affiliates membership information. I very much appreciate your providing an update on this important initiative."
-- Margaret Brayden, Executive Director, NAMI Multnomah
***
We suggest affiliates obtain a DropBox.com account (free) so we can provide you with free updates; and a LogMeIn.com account (also free) so we can provide you with free training and continuing support.


It is not necessary to have MicroSoft Access software on your computer.


Cat's Meow is provided by Susan & Joe Peter, NAMI members since 1992.
Printable PDF of Features Sheet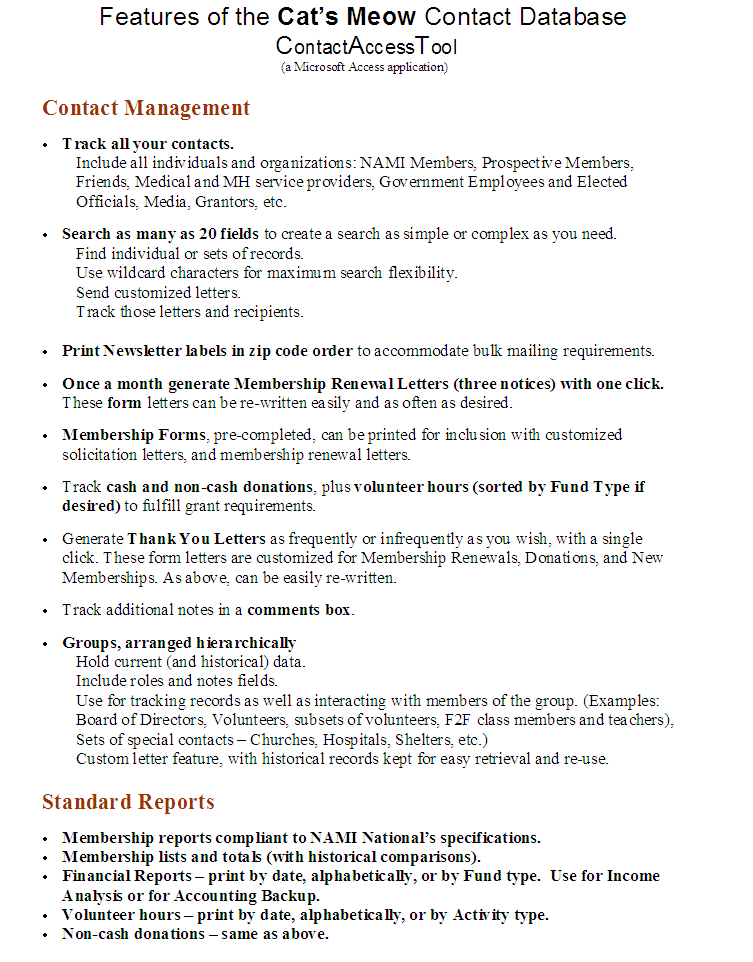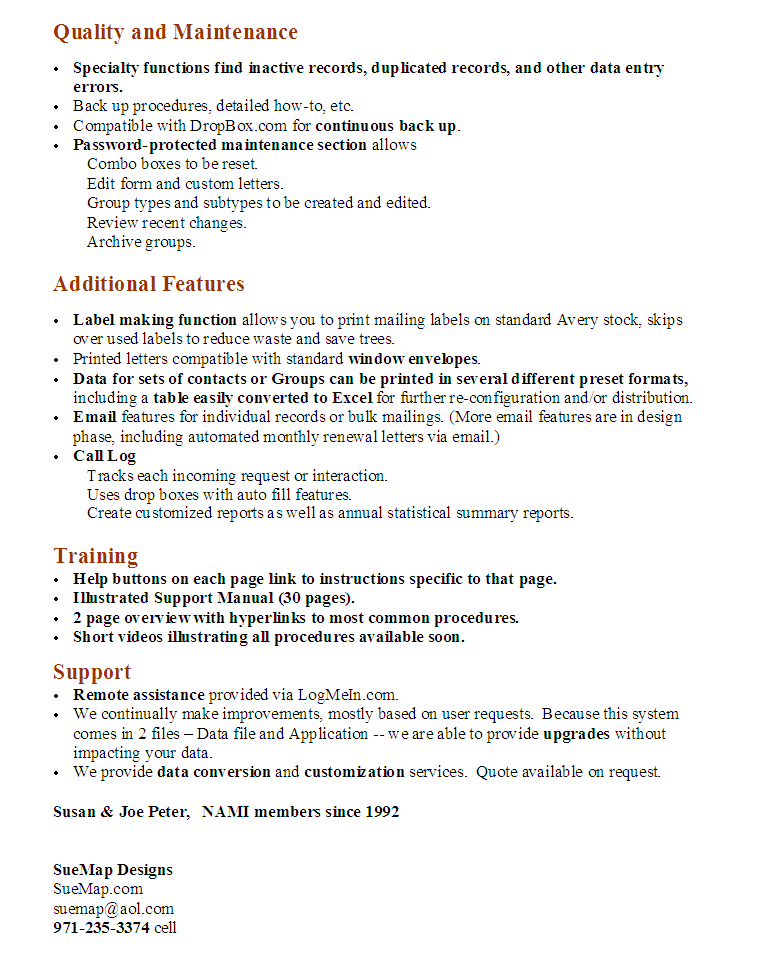 ---