<! Row 5>
Floor of the Tractor barn, contents of box installed on wall.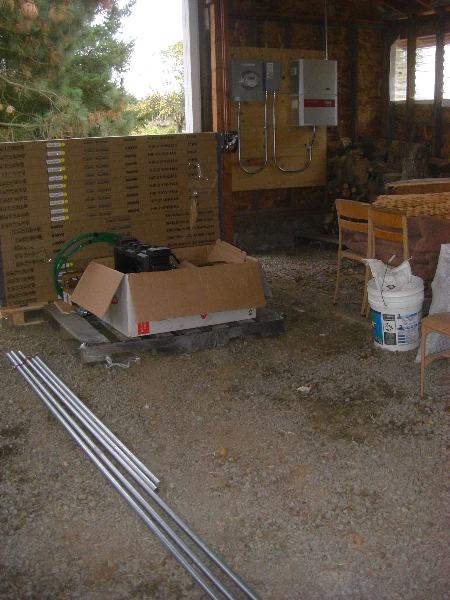 This project went so fast!

Never have I had work done so well and so fast. Of course, I've never spent this much money on a project before either...

Fortunately there were great tax credits and assistance from the Energy Trust too. So far, everything has worked out as predicted -- Financially and in power generated.
Initial Cost $34,783.00
Energy Trust Incentive -$9,450.00
State Tax Credits -$6,000.00
Federal Tax Credits -$7,600.00
Additional Federal Tax Liability Due to State Tax Credit +$2,100.00
Potential Net Cost $13,833.00

(Up front, out-of-pocket expense, was about $25,000. Federal tax credit received in the first year. State credits are spread over 4 years.)

Power rating for the system is 4200 Watts. By the time it goes through the Fronius inverter at an 80-85% efficiency, we should be generating 4000kW hours (4 MegaWatt hours) per year

We have seen 3800+ Watts being generated, but this is not necesarily the highest.

While discussing prices, it should be noted that the cost of a college education these days produces somewhat comparable numbers. Our final cost is not too dissimilar from the annual cost of going to a 4 year state university. While money on education is always well spent, it sometimes takes a while to recover the investment. We figure this is true with the PV investment also, with a bit more assurance that the end result will be tangible. And, like education, the financial return is not the only value received.